It seems more and more newlyweds are choosing a honeymoon cruise these days. Whether it's the affordability or the romance of the sea that convinces you, here are 10 reasons to book a cruise for your honeymoon.
Why Take a Honeymoon Cruise?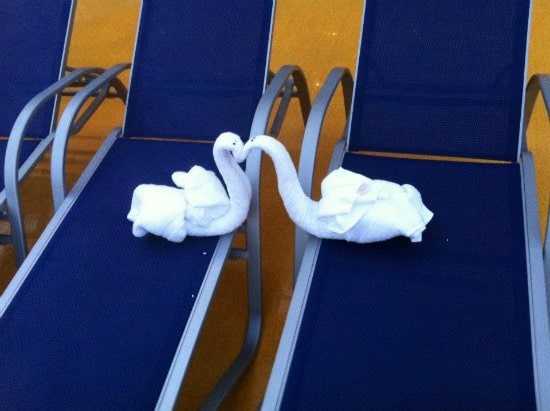 1. Budget-friendly
For many newlyweds just coming off the expense of a wedding and looking to start building a life together, a top concern for the honeymoon is the cost. It can be hard to budget for land-based vacations when you can't predict how much you'll spend on food or going out for fun. And while you can pay for your transportation and hotel ahead of time, they have to be paid up front. With cruises, food and entertainment are included, and if you book far enough in advance you can make incremental payments on your fare rather than fronting all the money at once. This way, you can spend less time focusing on costs and more time focusing on each other.
READ MORE: 13 Tips for Honeymoon Cruisers
2. Multiple destinations

Perhaps you'd like to relax on the beach in Grand Cayman but your new spouse would like to climb Dunn's River Falls in Jamaica. A Caribbean cruise is the perfect solution. Since most cruises stop in multiple ports, they offer a unique opportunity for travelers to visit multiple destinations, countries, and cultures all in the span of just a few days. You also get to do this while only unpacking once, meaning less hassle. And if there's one thing anyone who's recently planned a wedding wants to avoid, it's hassle!
3. Luxurious accommodations

You don't have to book a suite to cruise in luxury on a honeymoon cruise. A stateroom is what you make it, and even interior staterooms can oftentimes seem luxurious to many of us. Whether you sail with a balcony room or not, you won't have to worry about booking a room in a bad part of town because there's no bad part of a cruise ship!
4. Specialty dining

In case the free food in the buffets, main dining room, and other venues isn't enough, cruise ships also offer specialty dining restaurants. Although these places come with a surcharge, they also come with unique menus, elevated flavors, exceptional service, and a unique ambiance. For the honeymooners, it's great idea to try the ship's steakhouse, which is usually one of the best values on any cruise line (Norwegian Cruise Line's steakhouse costs just $30 per person; Carnival's is $35). The steakhouses offer a multi-course meal centered around prime cut steaks. Compare those prices to what you'd spend on land, and they can't be beat. Also, be sure to mention that you're celebrating your honeymoon so you can get a special treat like an extra dessert, a bottle of champagne, or a discount on a bottle of wine.
READ MORE: 4 Reasons a Cruise Makes a Great Honeymoon
5. Onboard perks

Just like the free dessert perk mentioned above, honeymooners enjoy a lot of perks on a cruise. Discounts at the spa, discounts on specialty dining, and special deliveries of items like a bottle of champagne or a plate of chocolate-covered strawberries to the stateroom are all gifts that honeymooners may receive on their romantic getaway.
6. Variety of entertainment

Cruise ships are just as alive at night as they are during the day. As soon as you wake up, you'll find things like trivia competitions, bingo, onboard shopping, art shows, and pool-side entertainment on the lido deck, among the rest of the ship's offerings. And don't think things will die down after dark – on a cruise ship the party is in full swing, featuring theater production shows, deck parties, lively bars, a busy casino, live music, comedy shows, and more – plenty to please the newlyweds 24/7!
7. Spa treatments

What's more romantic than a couple's massage? Or surprising your new bride with a relaxing mani/pedi? Almost every ship at sea has its own version of a spa, and what better way to spoil yourselves as newlyweds than to enjoy the jets of a thalassotherapy pool while enjoying the ocean view?
8. Pictures

One thing you're sure to not get on a land-based vacation is the professional portraits and photos that cruises offer. The crew set up photo backgrounds around the ship and take posed, elegant photos in addition to snapping your smile randomly throughout the cruise. Purchasing these photos is the perfect way to remember your honeymoon and to cherish your memories in your new home together.
9. The service

Don't forget about the personalized service you'll get on a honeymoon cruise. Your room stewards will make your room up twice a day, your dining room waiters make sure you eat like royalty, and your bartenders will know you by name and remember your favorite drinks. Nothing says "marital bliss" like neither of you having to cook or clean.
10. The sea

Last but not least – the one thing you cannot get from any other type of vacation is the sea. With unparalleled access to the rolling blue waves and salty spray, cruise ships connect you to the fresh sea air in a way no other vacation can. Plus, cruises are the best for snapping those romantic sunset pics.
Have you – or would you – consider booking a honeymoon cruise?