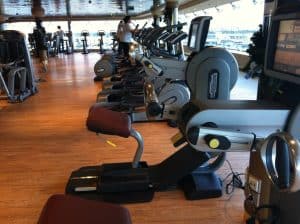 Let's face that fact that when we cruise the last thing we think about is wanting to lose weight, but what we should worry about is gaining weight. Having been on quite a few cruises this year I've found some (obvious) ways to maintain your weight while having the time of your life.
This worked for me:
1. Work out: This may seem obvious but isn't as easy as you may think. The gym facilities on the ship usually look out over the water and the views are stunning (motivation, right?). Take 30-minutes out of your day to get your blood pumping.
2. Jog the deck: A majority of the ships have a dedicated running area that's marked off but just because it's a jogging area doesn't mean you have to jog. On my last cruise a lady at our table would walk 14 laps around it every evening after dinner.

3. Take the stairs: This isn't easy and will require will-power, especially after you've pigged out in the main dining room for dinner. The dining rooms are generally on the lower decks and if you're on a balcony deck, you have the work cut out for you.

4. Walk the ports: Every port the ship calls to will have some type of shopping center or even an area outside the gate. If you feel comfortable walking outside the gates you can do that, if not, walk the shops and along the pier. Cozumel is a great place to do this – safe and plenty of public strips to walk.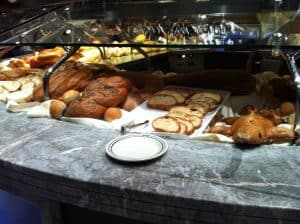 5. Avoid the buffets: I can't usually heed my own advice on this one, I'm a sucker for pizza. The plates the cruise lines give you at the buffet are so big and you're more tempted to go get seconds and thirds. If you do go to the buffet, head for the fish, chickens, or greens. Avoid the breads, rice, and potato's.

6. Drink lots of water: The sun, drinking, and sodium in cruise food can make you retain water and stay thirsty. You'll want to flush all the salts away and stay hydrated. Consider bringing a case of water on the cruise. Just don't open the bottle in your stateroom, it's a rip-off.

7. Try classes offered: Yoga, stretching, Pilates, spin classes, or a personal trainer will all keep you active. Some classes may charge a fee but it's always a way to try something you never done. You're on a cruise, try something new.

8. Say no to fruity concoctions: Did you know some of the fruity and frothy drinks have up to 1,000 calories? True stuff. Try to go with the lighter cocktails. One ounce of chocolate liqueur can have over 100 calories. One ounce! Wine is the most calorie friendly coming in at 100 calories per glass, wine spritzer anyone?

9. Excursions that require strength: Climbing Dunn's River Falls in Jamaica, Snorkeling in Grand Cayman, or the America's Cup Challenge in Cozumel. No matter where you go you can find excursions that'll keep you active and are loaded with endurance. You can also check at the pier for excursions that are offered.

10. Take advantage of the spa menu or health options: Celebrity Cruises, Royal Caribbean, and Carnival are the cruise lines that stick out the most when it comes to healthy dining options because they have dedicated areas on their menus. This rule isn't the most appealing to me but if you want to eat like a bird, have at it! I tried it once.
Remember you are on vacation and can splurge but only in moderation.
Source:
Meghann Anderson/Meals and Miles
Doug Parker/Cruise Radio