As we continue to countdown to Christmas, there's one thing that brings everyone together: food. So to celebrate the best of cruise ship dining, we've made a list of seven restaurant recommendations (although it was pretty difficult to narrow it down to just seven!).
1. Animator's Palate (Disney)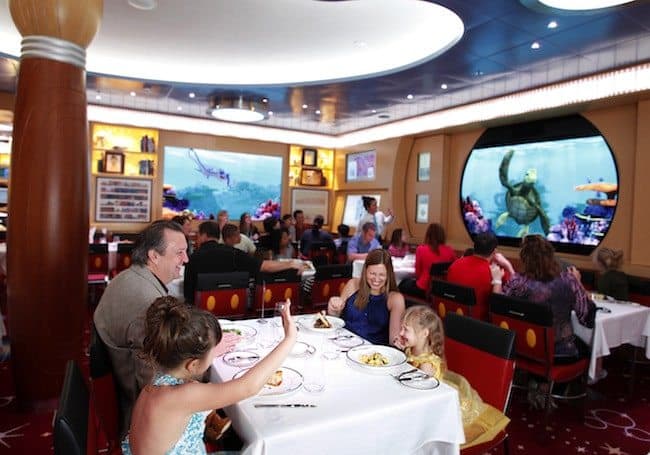 Amazingly, this is the only restaurant on our list that is actually a main dining room. You'd never know it though, as everything about its interactive dining experience is on par with (if not above) the surcharged restaurants. At Animator's Palate, the walls are quite literally illuminated with the diners' illustrations made on interactive pads found at each table. Between the interactive experience, artful decor, and delicious food, this restaurant is a must. Search Disney Cruise Line sailings here.
2. Cagney's Steakhouse (Norwegian)
Although almost every cruise ship at sea features a steakhouse, Norwegian's Cagney's Steakhouse is our go-to recommendation for several reasons. At just $30 per person to dine, it's the most affordable steakhouse price at sea – and probably on land, too. Not to mention, Cagney's is consistently rated among cruisers as one of the best steakhouses at sea in terms of quality, so you're truly getting the best bang for your buck here. Finally, if you're sailing on a Breakaway or Breakaway Plus-class ship, you can even enjoy oceanfront seating while you dine.
3. Jiji Asian Kitchen (Carnival)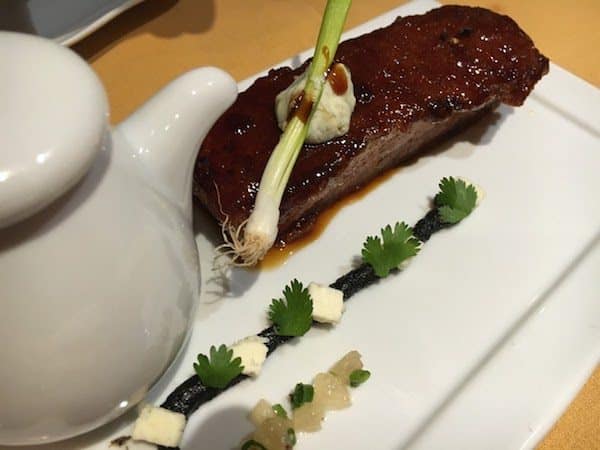 Found on Carnival Sunshine and the new Carnival Vista, JiJi Asian Kitchen is one of our recommendations thanks to its Asian-fusion menu, low cost ($15 for adults and $5 for kids), and the variety of flavors offered. Whether you're craving Chinese shrimp pot stickers, Vietnamese Bo Kho beef short rib, or even some caramelized dessert crepes with a Filipino flare, this restaurant has it all. We can only hope the venue is introduced on more Carnival ships in the future.
4. Lawn Club Grill (Celebrity)
There was no question that this dining experience would make this list because it is an industry first, and a pretty awesome one at that. On Celebrity Silhouette and Celebrity Reflection, cruisers can dine at the Lawn Club Grill, an open-air restaurant featuring outdoor grilling. As if that doesn't sound cool enough, each dining party has the option to elect a "Grill Master" that will work alongside the chef to prepare the meal. Or, if you'd rather sit back and let the professionals handle it, that's fine too. Either way, you're getting a gourmet grilled meal from a menu featuring a salad bar, flatbreads, and beef, poultry, and seafood, all while enjoying the fresh sea air. The cost is $40 per person if you book before you cruise, and $45 once onboard.
5. Culinary Arts Center (Holland America)
The Culinary Arts Center, found on many Holland America ships, is a culinary learning experience presented by Food & Wine magazine that features a farm-to-table concept and hands-on cooking classes, some of which are visited by celebrity chefs. However, specifically on the new Koningsdam ship, cruisers can skip the "class" part of the Culinary Arts Center and simply dine here. The perks to this restaurant are that you get to watch the chefs prepare your food, so you know it's being made fresh and can study their techniques. This restaurant also offers more options for vegetarians, which is a nice break from the typical cruise ship steakhouse. Oh, and did we mention that with the $39 surcharge you get unlimited wine with dinner?
6. Sabor (Royal Caribbean)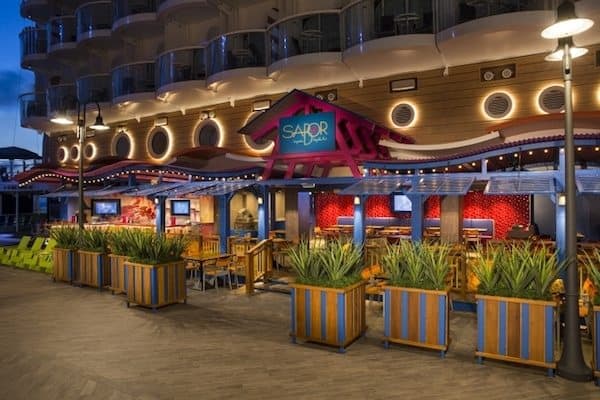 Although the menu is not very extensive, Royal Caribbean's Sabor packs a punch in flavor. This restaurant fills a void of quality, elevated Mexican and Latino food that is lacking on cruise ships, and we still think it could go even further than what it offers. That being said, Sabor's guacamole, made for you fresh at your table, is famous among Royal Caribbean cruisers, and that's just to get things started. The menu features tacos, burritos, and quesadillas among soups, stuffed jalapenos, and other dishes. You'll have to see – no, taste – for yourself. Search Royal Caribbean cruises here.
7. Qsine (Celebrity)
Celebrity has a reputation for having some of the best food at sea, even among its free dining options. However, the restaurant Qsine is a must-try. Here, the food's presentation says as much as its flavor, with the menu featuring whimsical yet elegant items such as "sushi lollipops." After diners order their food on the restaurant's interactive iPads, the waiters bring the globally-inspired dishes to the table served family-style, making this food sharing experience unique and worth the $45 per person charge.
Featured photo: Animator's Palate  – Disney Cruise Line
Read our previous entries in the 12 Days of Cruising series: