At least seven Americans and two Swedish citizens are among the dead following a tragic bus accident in Mexico's Yucatán region. It is believed that there were at least 12 fatalities, although the nationalities of some of the victims had not yet been established. Royal Caribbean Cruises said in a statement that passengers from two of their ships — the Celebrity Equinox and Serenade of the Seas — were on the bus.
How The Crash Happened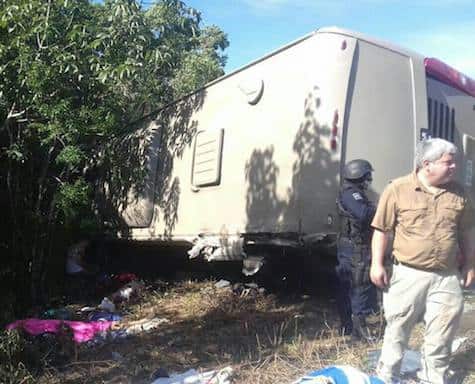 According to news reports, Civil Defense spokesman Vicente Martin said that the crash occurred as the bus was making its way to the ruins at Chacchoben. The ruins are a popular destination among cruisers visiting Costa Maya, Mexico, with shore excursions visiting the secluded ruins which are near the border of Belize.
As of Tuesday afternoon, the cause of the accident was still being investigated, although early reports claimed that the bus careened out of control after blowing a tire. In addition to the paying passengers, a guide and driver from the tour company, Costa Maya Mahahual, were also on board.
According to Royal Caribbean's site for the shore excursion, the bus ride to the site normally takes approximately 50 minutes. The company expressed its sympathies and said it was assisting with medical care and transportation.
Featured photo via The Merida Yucatan Bulletin.