Sometimes once you board a ship and get settled into the groove of your cruise vacation, you realize some things could have been done differently, or added to your suitcase to make life onboard a little bit easier.  We've got a list of cheap, mostly small things to consider bringing along that you can probably find at your local dollar store.
1. Pill Box
To keep your medicine (or even vitamins!) in order without having to bring each of their individual bottles onboard, pick up a cheap pill box.  You'll know what to take each day with no fuss, and everything will be in one compact place.
2. Zip Lock Bags
To keep your electronics and other valuable safe and dry on the beach or in your bag, put them in plastic zip lock bags.  These bags also work great for bottles of lotion or body wash that may burst open during travel, or kids' soiled clothes that haven't made it to the laundry facilities yet.
3. Poncho
Who wants to get caught in the rain and head back to the ship in soaking clothes?  Not me!  Buy cheap ponchos at the dollar store and throw them in your bag to head off the ship.
4. Travel-Sized Bottles
Unless you live near the port you'll be boarding the ship from, you're probably going to be flying to your embarkation destination.  This means that all liquids will need to be less than 3 oz anyway, and travel-approved bottles are perfect for your face wash, lotion, and hair conditioner.
5. Night Light
If you're traveling with small children or just prefer to have a light guiding your path in the night, pick up a cheap night light.  Interior rooms are especially dark, so if you're booking an interior room but would like to be able to see your hand in front of your face at night, this is a perfect solution.
6. Magnets
Most cruise ship stateroom walls are metal, so pick up a package of magnets to take along with you on your voyage.  You can hang up the daily ship newsletter, notes on where you are, and other useful things.
7. Net Bag for Laundry
Instead of throwing all of your dirty clothes in the corner, buy a pop-up or regular net bag for your laundry.  The mesh will allow clothes to breathe and not become damp and full of mildew, and the bag will keep everything contained.
8. Over the Counter Medications
Benadryl for allergies, ibuprofen for pain, Dramamine for seasickness, any medicines that you think you might need on your cruise for different small ailments can probably be found at your local dollar store.
9. Rafts
Any place you go is going to charge you for a raft or water noodle. Although taking a noodle onboard might be a struggle, a raft is nicely folded and can be left if you don't feel like dealing with it.
10. Big Cup
Buy a cheap cup or water bottle that you can fill up with water or juice, etc. on the ship.  Usually the glasses a cruise line will provide are pretty small, so if you're a very thirsty person (like me!), it's nice to have something larger to carry around with you.
11. Suction Hooks
Going along with the magnet theme, suction hooks are great for in-stateroom use, too.  You can suction your loofah to the shower wall, or stick a few on the closet doors for a jacket or sweater hook.  There are lots of possibilities, and they're small so they won't take up much room in your precious luggage space.
12. Toiletries
Often, your favorite brand of body wash, soap, or shampoo will make their product in a travel sized bottle.  So, if you don't want to worry about filling up travel size bottles yourself out of your full-size bottles, consider buying the mini versions.  There are sometimes entire sides of an aisle dedicated to these ready-to-go toiletries.
13. Straws
You may be thinking, what on earth do I need to bring straws on a cruise for? Won't my drinks come with a straw?  Yes, they will.  However, this is for an entirely un-drink-related purpose.  If you are packing dainty necklaces for your cruise, it's all too common that they will tangle themselves up during transit.  The solution is to string them through a straw to keep them in a neat loop.  No tangling today, jewelry!
What travel essentials have you found at your dollar store?  Drop us a comment and let everyone know!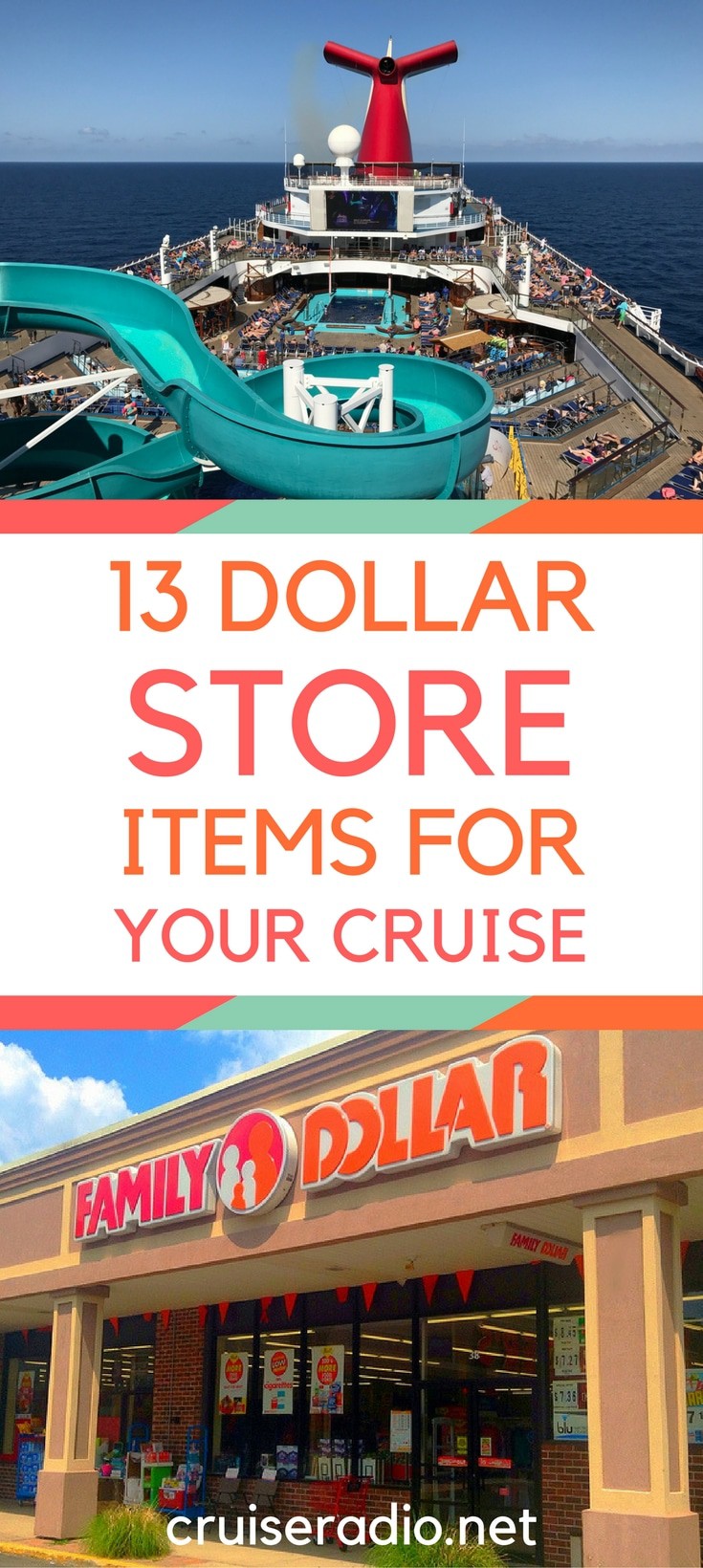 dollar store photo in pinterest image: flickr creative commons