On Wednesday, MSC Cruises signed a letter of intent for up to four new megaships that will be known as the "World Class" of MSC's fleet.  They will be over 200,000 gross tons, and be based on a new, next-gen prototype.
This announcement comes as an addition to the already seven new builds in store for the cruise line.  Four of the vessels will be Meraviglia and Meraviglia-Plus class, and three will be Seaside class.  This means that MSC has 11 new cruise ships on order between 2017 and 2026, with an investment plan worth $10.2 billion.  It's safe to say that this cruise line is doing quite well!
Fast Facts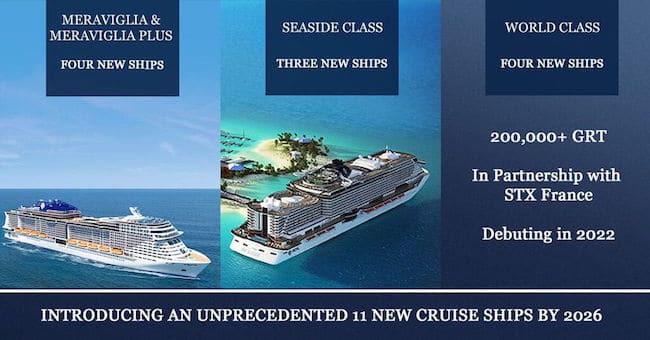 2 ships for the Meraviglia class – to be delivered in May 2017 and February 2019. Tonnage: 167,600
2 ships for the Meraviglia-Plus class – to be delivered in October 2019 and September 2020. Tonnage: 177,100
3 ships for the Seaside class – to be delivered in November 2017, May 2018, and May 2021. Tonnage: 160,000
4 ships for the new World class – to be delivered in 2022, 2024, 2025, and 2026. Tonnage: 200,000+
The line's focus in innovation is being proven with the three classes of ships that the new builds will be spread across, and will complement their existing ones quite nicely.
Photo: MSC Cruises