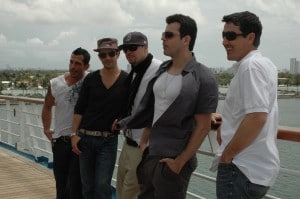 If you're looking for a vacation unlike any other, it's time to stop looking at the cliché beach destinations, and think outside the shores. After all, some of the most epic vacation memories people make are on ocean cruises. Even so, ocean cruises are a dime a dozen these days, but there are some pretty unique ones out there too. To really shake things up, let's look at some of the most strange and quirky cruises in the world.
New Kids on the Block Party
That's right, you can cruise with none other than Donnie, Danny, Jordan, Jonathan and Joey on the only cruise of its kind. Step off the streets of New York City and onto the most epic "block party" you'll ever be a part of. You'll cruise directly to the Bermuda, taking in the stunning beauty of the summer ocean air.
For one glorious long weekend in June 2014, you can kick it with NKOTB and make all of your old high school friends super jealous. You don't see this kind of cruise every day, people.
Craft Cruises
If a NKOTB block party isn't your cup of tea, perhaps you'll enjoy a relaxing bout of knitting. Not your thing? Try crocheting or needlepoint. If those still aren't up your alley, you can always check out hand spinning or beading cruises too. This is a real thing, folks.
These niche cruises focus on providing a calming, relaxing atmosphere for its passengers, and cater to dozens of pastimes and hobbies. Each cruise provides plenty of space for passengers to spread out and enjoy themselves. You can even stick to solid land and opt for one of the company's land cruises, in which passengers cruise through unique cultures via train.
The Cougar Cruise
No, this cruise isn't riddled with wild mountain lions. It's Royal Caribbean's eighth annual Cougar Cruise, and it's the perfect getaway for cougars and their men. Whether you're a woman over forty who appreciates younger men, or a 20-something man looking for a cougar of your own, this cruise is for you. The 2014 cruise will be Oct. 24-27, and will leave from Los Angeles, and will sail to Ensenada, Mexico. It's a great way for fun singles to meet each other and have a blast on the open sea.
This cruise is super affordable too. The cost is only $434 per person for a double occupancy room. It includes a fitness center, pools, a casino, duty free shopping, Las Vegas style entertainment, and plenty of bars, lounges, and club shows. There is a roommate matching program as well, for those traveling solo. Since this cruise caters to an older demographic, and the activities can be very upbeat, it's important to keep safety in mind.
Star Trek Cruise
You can live long and prosper—at sea—on this themed cruise dedicated to the beloved sci-fi franchise. The dates for the 2014 voyage have yet to be selected, but judging by past cruises, it's bound to be the trek of a lifetime. Previous cruises have included celebrity guests the likes of Denise Crosby, John Billingsley, Garrett Wang, Gary Graham, and Chase Masterson. If you're unfamiliar with those names, it might be time get connected with your FiOS connection to stream some of those classic Star Trek episodes and movies.
So, if the sea is calling, but you can't bear to jump on another cookie cutter cruise alongside thousands of others, check out one of these unique experiences. Who knows, you might just discover a side of yourself you never knew existed. Give one of these unique cruises a chance, and explore the wonders of the world, while enjoying a one-of-a-kind on-board experience.