49 Things Carnival Cruise Line Guests are Missing
Ask cruise lovers what they miss most about sailing, and they'll likely respond "everything." Ask Carnival Cruise Line fans in particular what they miss and you'll get a much more specific response… and it'll almost certainly include warm chocolate melting cake.
Happy Birthday, Carnival Cruise Line
As it happens, March 11 is the 49th birthday of Carnival Cruise Line, marking the day when the original TSS Mardi Gras first set sail out of PortMiami. (This is not to be confused with the soon-to-debut Mardi Gras, which will begin sailing out of that very same port later this year.) As part of those celebrations, the company asked past and future guests what they miss most about cruising.
The responses ran the gamut from sunsets at sea to stargazing on the top deck, and from hitting the Alchemy Bar to lounging by the pool.
In other words, to bring things full circle, pretty much everything about the experience that is cruising in general and doing so aboard a Carnival Fun Ship in particular.
The Things You Miss Most
Here, as reported by Carnival Cruise Line, are the 49 things people miss most about setting sail on one of the company's ships.
Sailaway
Late Night Movies
Guy's Burgers
Meeting New People
Ocean Views
Punchliner Comedy Club
The Spa
Half Moon Cay
When You First Walk On Board
RedFrog Pub
The Casino
Not Having to Cook or Clean
The Sound of the Ocean at Night
The Crew
Bingo
Room Service
Water Slides
Waiters Singing and Dancing During Dinner
Chocolate Lava Cake
80s Night
Cocktail on the Balcony
Piano Bar
Elegant Night
Sailaway Party
The Free Ice Cream
Being Able to Unplug
Sea Days
Alchemy Bar
Sunsets and Sunrises
The Shows
Cruise Director Announcements
Visiting the Bridge
Drinks on the Serenity Deck
Exploring the Islands
Chef's Table
Havana Club
Star Gazing from the Top Deck at Night
Funnel Horn
SkyRide
Pizza Any Time
Partying With the Fun Squad
Trivia Games
Seaday Brunch
Blue Iguana
Family Time
Excursions
Lounging by the Pool
Waking Up in a New Destination
Late Night Strolls
Bracing for the Big 5-0
Meanwhile, planning is already underway for next year, when Carnival Cruise Line will turn 50. While many of us sort of dread hitting that particular landmark age, Carnival is ready to party heartily with everything from special sailings aboard several of their ships to the launch of the appropriately named Carnival Celebration, a sister ship to Mardi Gras.
READ MORE: Construction Begins on Carnival's Next Ship
There are a slew of special events planned aboard Carnival ships during the 50th birthday bash, including special sail away parties at which guests will be encouraged to wear the line's signature colors, throwback sea days featuring classic activities once regularly featured on the ships, and a special take on the popular Groove for St. Jude Dance Contest.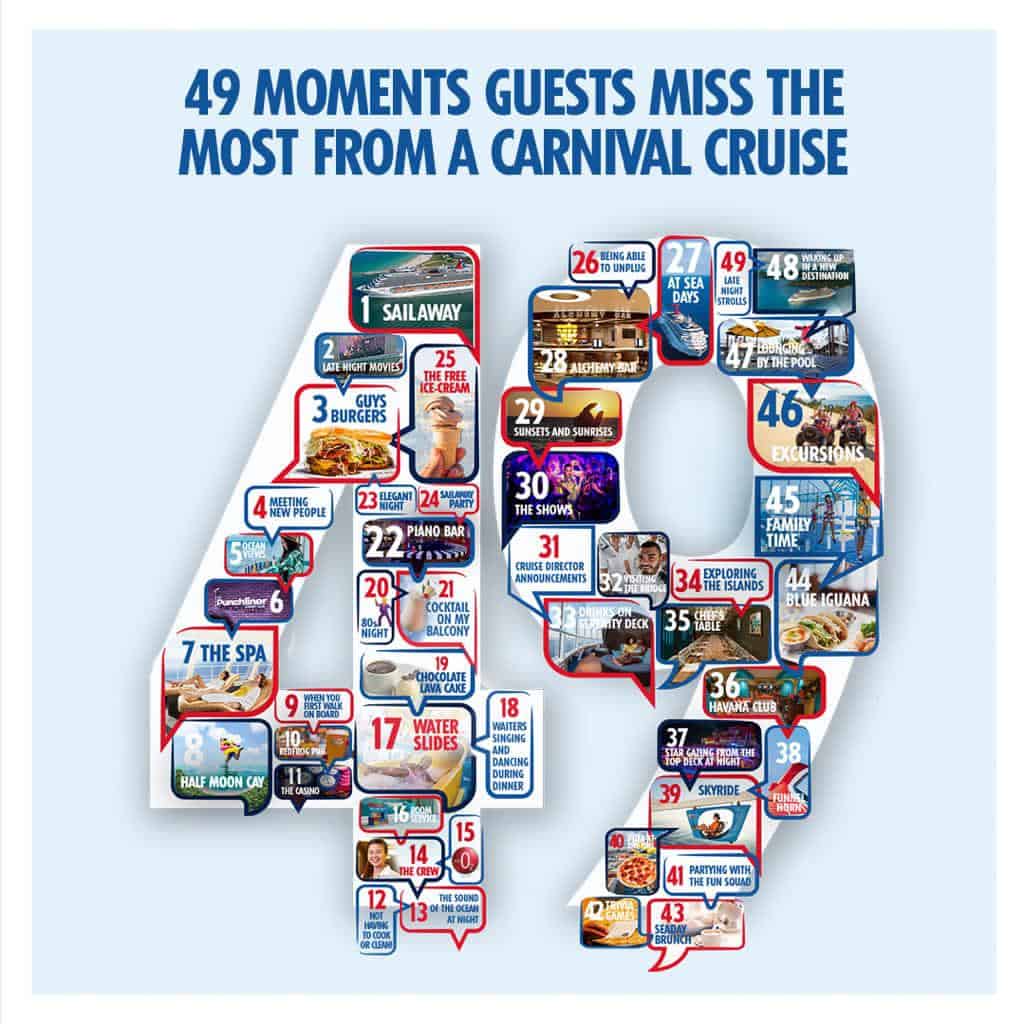 The 50th birthday "sailabration" will also include special menu items in the main dining room (cherries jubilee, anyone?) as well as a limited-time return of the classic Midnight Buffet Extravaganza, complete with carved ice sculptures. For more on all the special events planned during the 50th anniversary sailings, click here.