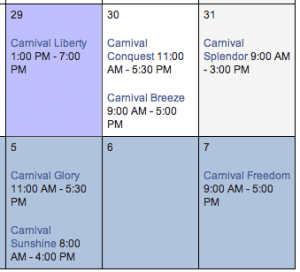 If you're a planner, the thought of mapping out your cruise vacation can be overwhelming.
How many ships are going to be in port with us? What are the best excursions? Where do I find videos of what my ship looks like?
These are questions I used to ask myself before every sailing, until I made this checklist.
5 websites to check before your cruise:
1. CruiseCal
Before I create any type of port game plan, I need to know how many ships are in port. Nassau, Bahamas can have up to six ships in port at one time. Depending on the ships, that can be over 21,000 people.
CruiseCal.com tells you what ships are in port during what day. Knowing which ships are in port lets me know if the streets, excursions, or public transportation will be running normally or tortoise slow. The site's premium membership lets you drill down to the port, ship itinerary, and other cool features. I've been a member for four years.
2. Message Boards
Message boards like CruiseCritic and Cruiseline.com have saved my butt in a lot of ports. They've also saved me thousands of dollars over the years by offering tips and advice –  all crowdsourced from cruisers. I pay most attention to the advice and less attention to the cruise ship reviews; reviews are so subjective.
3. Cruising Excursions
Cruise line shore excursions can be quite costly. I was talking to a family of five in Cozumel recently and it was $475 for their family to do one beach excursion there. Most third-party shore excursion companies offer the same guarantee as the cruise lines and a smaller, more intimate excursion. Cruising Excursions offer shore excursions for up to 60% off the cruise line prices.
4. Local Tourism Boards
This is an excellent starting point when it comes to finding the inside information about your cruise port. You can find some great tips, weather, tourism numbers, places to go, and details on public transportation from the tourism board. It's also a great place to get links about your destination like where the wifi is, how many people are projected to be in port, and the ferry schedules.
Recently I learned a lot about St. Thomas by visiting VInow.com.
5. Social Media
Do a quick hashtag search on Facebook, Twitter, Instagram, or Pinterest and you'll see that a lot of people are tweeting, posting, and pinning about your destination. You may just find yourself getting inspiration and ideas from other travelers.
Bonus:
Check out Cruise Fever's video tours of popular ships. I recently found myself watching their Regal Princess and Carnival Breeze videos before two sailings.
Do you have any favorite cruise resources?

Featured photo: Flickr