It's been a little while since I stepped foot on a Costa ship – almost three years ago – so when I was invited to check out their new Caribbean winter itinerary aboard Costa Mediterreana,  I figured I'd give it another shot.
The cruise definitely isn't for everyone. It's very European, but on the other hand, it's had a certain class about it.
Five first impressions of my Caribbean Costa cruise: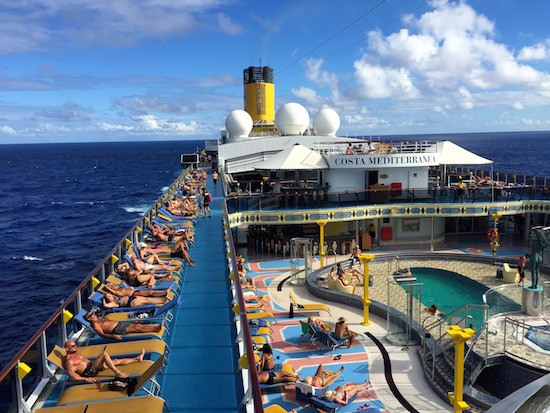 1. Food
The food was hit or miss for me. Food overall is so subjective so who am I to say if something is really good or really bad. Since it is an Italian cruise line, I found a lot of pasta dishes, chicken, pizza, and anti-pastas. I was very impressed with Italian night and quickly fell in love with the eggplant Parmesan, garden salads and cannolis.
One thing I found odd was no dinner in the buffet area. The pizza area turns into a pizza restaurant at night. You'll find an $8 surcharge for the self-service salad bar, a whole pizza and dessert. The $8 surcharge was justified because it came with table service.
2. Psychedelic artwork
Inspired by 17th-century Italian palaces, Costa Mediterranea's décor consists of Carrara marble, Murano glass accents and inlaid wood, creating an interesting atmosphere throughout the whole ship. The main atrium has suspended dancers in a tribute to dance.
There was 17th-century artwork lining the passenger corridors and unique statues throughout the ship and pool areas.
It was fun walking around the ship and checking out the different rooms and themes.
3. Itinerary
This Costa Caribbean cruise itinerary was very attractive with stops in Nassau, Bahamas; Samana, Dominican Republic; Road Harbour, Tortola; St. John's, Antigua; and Point á Pitre, Guadeloupe; Phillipsburg, St. Maarten and Freeport, Bahamas.
These are awesome ports that you bang through one after another with only three sea days during the 11-night voyage.
4. Entertainment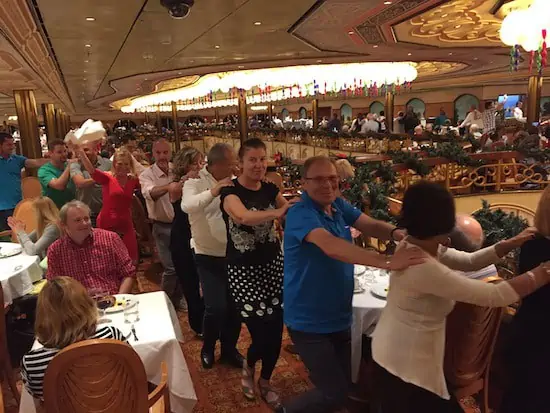 One thing I quickly learned on Costa is that Italians love to have a good time and live life to the fullest. Anywhere there was live music there was a party. A lot of singing in unison and dancing in every room.
The entertainment was more visual on this ship because with so many nationalities you really can't have a comedian on board, there would just be a language barrier. However, karaoke was a hoot because the host was doing it in German, English, Italian, French and Japanese. It was really cool hearing all the nationalities sing karaoke in their own language.
5. Staterooms
If you ever sailed Carnival Cruise Lines before you will understand when I saw the staterooms are the same, right down to the colors. I really like the flow of Carnival staterooms so it was really enjoyable for me.
Bottom line
To me, the itinerary was the selling point. You get a little bit of everything from the Bahamas down to Guadaloupe and back north again. The Bahamas bookends this itinerary.
Costa Cruises isn't trying to capture a North American audience in the Caribbean. Costa Cruises is capturing Europeans and South Americans that want to take a Caribbean holiday. The service isn't warm and friendly like your average North American cruise but if you've ever been to Europe, you'll know what to expect. Everything was very matter of fact.
If you want to check out more about the Costa Caribbean cruise itinerary, check out their website here.
Hear our broadcast aboard Costa Mediterreana here
[smart_track_player url="https://traffic.libsyn.com/cruiseradioshow/CR_DEC_26_14_MIX_AU.mp3″ title="Costa Caribbean Cruise" artist="Cruise Radio" ]