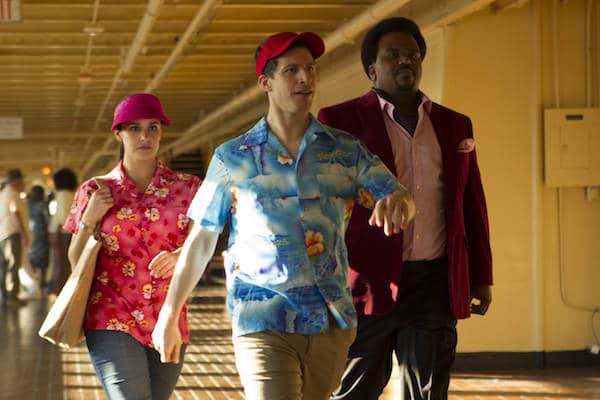 What do you get when you put a high-strung detective, her laid-back beau, and his nemesis aboard a cruise ship? An episode of the Fox sitcom Brooklyn Nine-Nine that was as funny as it was determined to play up every cruise-related stereotype in existence. From the plethora of elderly guests to the so-bad-it's-good entertainment offered aboard the fictional ship, the episode found officers Jake Peralta (played by Andy Samberg) and his girlfriend/co-worker Amy Santiago (Melissa Fumero) setting sail for a week of fun in the sun. But once on board ("Say 'I love Carousel Cruises International LTD!'" encouraged a ship photographer), the lovebirds discovered that on-the-lam criminal Doug Judy (the always hysterical Craig Robinson) was posting as a lounge singer! If you missed the episode, titled (duh) "The Cruise,— head over to Hulu or your On Demand outlet. Or you can just read our five favorite quotes… and learn something new (at least to us) about shuffleboard!
1)  Amy to Jake: "Cruise itineraries, hot off the laminator! Who's ready for some non-stop, totally scheduled fun!"
2) Amy to Jake: "The cruise offers 77 activities, and I signed us up for 76 of them. Speed dating for widows seemed like a bummer."
3) Jake: "Wait a minute. Where do the toilets on this boat go? DOUG: You don't wanna know!"
4) Jake to a would-be assassin: "There's no murder in the all-ages piano lounge!"
And our very favorite funny (and educational) moment of the episode…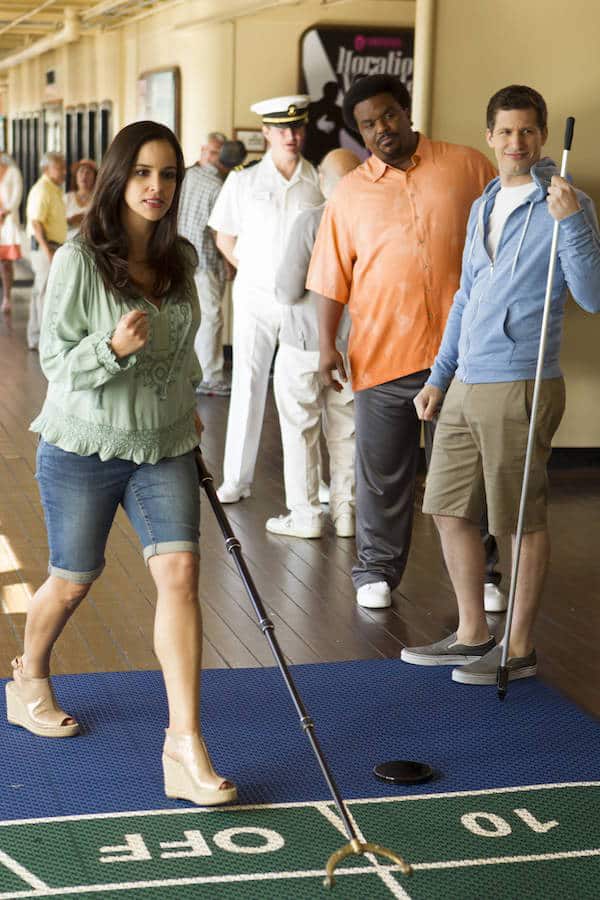 5) Jake: You brought your own shuffleboard stick? Amy: Yup. Doug: They're called tangs. You should be glad she has her own. You don't want her messing with another man's tang. Jake: There is no way they're called tangs. Amy: It's true, they are. And the discs are called biscuits. Jake: Tangs and biscuits? That is so dumb. I officially love shuffleboard! Clear a path, I'm about to whip my biscuit!