By Nancy Schretter
The stunning island of Nevis is a dream destination for Caribbean cruise passengers. Upscale cruise lines – such as SeaDream Yacht Club, Windstar Cruises, and Ponant Yacht Cruises – bring their guests directly to Nevis to enjoy its unspoiled beauty and picturesque charms. Other vacationers come from St. Kitts to enjoy the island for the day.
Passengers on larger ships, calling to St. Kitts, often take a catamaran cruise shore excursion or a 45-minute public ferry ride over to Nevis. Ferries are inexpensive and run frequently throughout the day. Larger groups, and those who want to get to Nevis fast, sometimes take a quick water taxi from St. Kitts to Oualie Beach. No matter how it's done, visiting Nevis by boat is a highlight of any trip.
Nevis is blessed with an abundance of natural beauty. Because the island is relatively undeveloped, its splendor has been well preserved. There are no crowds on Nevis, and the pace of life is relaxed and unrushed. People are very warm and welcoming here.
While Nevis is home to a number of spectacular beaches, the allure of this island stretches well beyond its golden strands. It's well worth taking an island tour to explore some of its must-see spots. Here are five great things to do on Nevis:
1. Explore the Island's History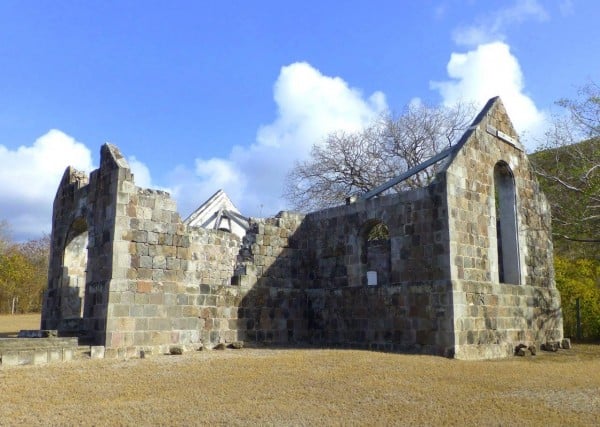 Nevis is filled with history, so one could easily spend an entire day sightseeing. Some of the highlights include the Museum of Nevis History (also the birthplace of Alexander Hamilton), as well as the island's many beautifully restored plantation inns.
Cruise passengers arriving in Nevis enjoy strolling along the streets of Charlestown – the island's capital – and taking in its colonial charm, shops, and 18th and 19th-century Georgian-style buildings. Erected in 1778, the imposing stone Bath Hotel and its natural hot springs were once popular with dignitaries and wealthy travelers. The island's historic churches – including the lovely stone ruins of Cottle Church – are not to be missed. The beautiful Botanical Gardens of Nevis are also well worth a visit.
2. Try A Killer Bee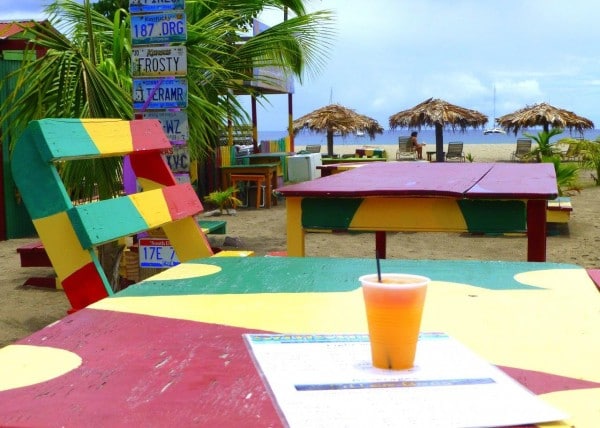 Caribbean cruise vacationers often dream of chilling out at an island beach bar with a tropical drink in hand. Nevis is home to some of the best beach bars in the Caribbean. Conveniently located on Pinney's Beach, Sunshine's Beach Bar & Grill has been frequently named as one of the Caribbean's top five beach bars.
This popular bar has created quite a buzz with its potent rum punch, The Killer Bee. Be careful not to drink too many and miss the boat – this bee packs quite a sting. "Sunshine," the bar's friendly owner, makes guests feel right at home… and he's a fantastic cook as well. Don't miss his freshly grilled local lobster and mouthwatering barbecued ribs – they're incredible. Other popular bars on Pinney's Beach include Lime Beach Bar and Double Deuce.
3. Love the Lobster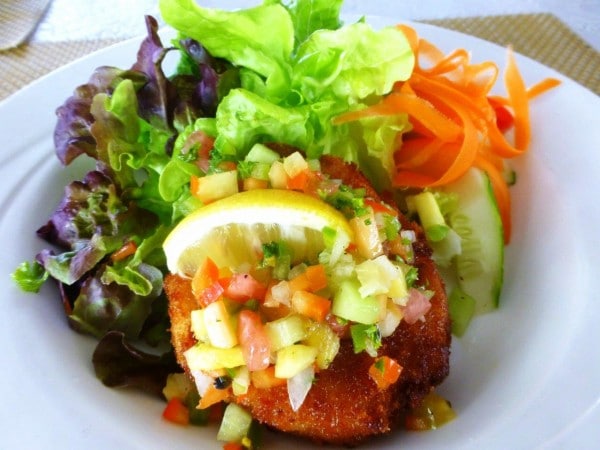 Foodies will be thrilled with the cuisine on Nevis. There's plenty of freshly caught lobster and seafood on the menus, and the local Caribbean favorites are excellent as well. While Sunshine's dining delights have already been mentioned, there's so much more to savor here.
Those wishing to enjoy a delicious lunch at a historic plantation inn, followed by a little beach time, should head to the beachfront Sea Breeze restaurant at Nisbet Plantation Beach Club – their lobster cake is superb. After lunch, lay down your towels and soak up the sun on the right-hand side of Nisbet Beach. There's no charge. Spa appointments may be available here, too.
For a true tropical rainforest experience, dine al fresco at The Rocks restaurant at the Golden Rock Inn. Set on a hundred acres with magnificent views of Nevis Peak, this historic plantation inn features some of the Caribbean's most spectacular gardens. Don't miss their lobster salad sandwich. Cabana at the Four Seasons is another good casual spot for lunch – check out their spiny lobster roll.
4. Hit the Fairways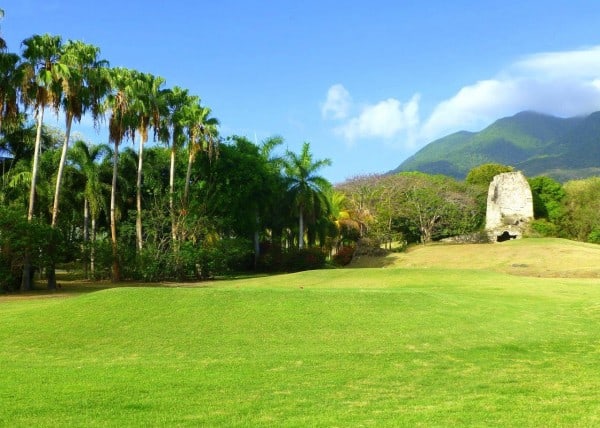 The par 71 Robert Trent Jones II Golf Course at the Four Seasons Resort in Nevis is one of the world's most beautiful courses, offering gorgeous views of majestic 3,300-foot Nevis Peaks and the Caribbean Sea. This course is very popular with Four Seasons Resort guests, but select tee times are offered for visitors based on availability. Call in advance for reservations and more information.
5. Go Wild Over Monkeys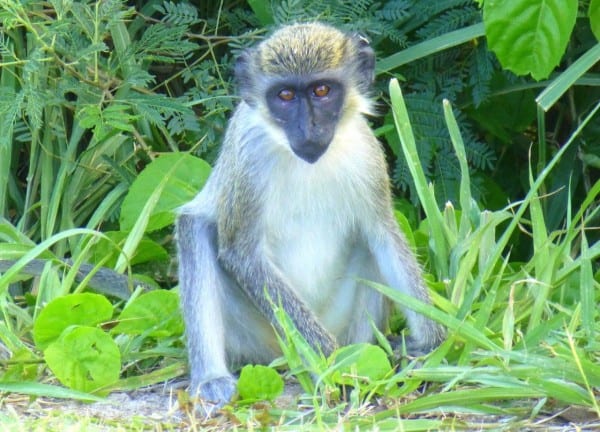 Nevis is home to more Vervet monkeys than people, and tourists go wild over these cute long-tailed creatures. With their silver bodies and black faces, these wild Vervet monkeys are highly photogenic. Monkey photo safaris are a favorite activity for families and nature lovers visiting the island. Island tour drivers know the best places to see them – just ask. Guided rainforest hiking tours are also popular on Nevis and they're an excellent way to spot these animals in their natural habitat.
For more information on Nevis, visit the island's website at www.nevisisland.com.
Nancy Schretter is the Managing Editor of the Family Travel Network.
Photo Credits: Nancy Schretter