When people go on vacation they have one thing on their mind, getting the most bang for their buck. I can't blame them, I was just in New York City for three days because of Winter Storm Juno, while I got a great rate at the Yotel (not a typo) – other hotel prices were through the roof!
Before you jet off to your next destination, try these lodging hacks:
1. Hotel Tonight app. If you're feeling last minute, download the Hotel Tonight app and look for a hotel in the city you're going to be in. When hotel rooms aren't selling, the property has to occupy the rooms otherwise they aren't generating revenue. That's when hotels puts their rooms on Hotel Tonight at a heavily reduced rate. If you see a hotel that you think is a good deal, grab it because they don't last long. Use this promo code for $25 off your first Hotel Tonight booking – DPARKER173.
The promo code is the gift that keeps on giving because you'll get one too and you can share it to help your friends save money. 
2. AirBNB. So this is a fairly new concept that allows you to rent a house, condo, room or even share a room. I know what you're thinking: it's weird staying in someone else's house. It's really not. Plus, everyone is vetted with state or federal issued identification and through Facebook and Google.
I've used AirBNB three times and never had a problem. We rented a condo on Miami Beach, a townhouse in Midtown Atlanta and most recently a room in New York City. All the experiences were flawless and it saved me a lot of money.
In NYC I rented a room for $30 per night, the cheapest hotel was $199. In Atlanta, I rented a townhouse for $99 a night. There are plenty of good deals to be had on AirBNB that are totally safe. You can get a complimentary $25 AirBNB credit by clicking here.
AirBNB lets you read the reviews before booking a property and correspond with the landlord.
3. BetterBidding. This website has saved me a lot of money over the years, in fact, it saved me over $100 per night in Boston recently. The website works in conjunction with Hotwire and Priceline, where the hotel isn't revealed until you make the booking.
Before booking, BetterBidding helps reveal what property you'll get by posting a guide of star ratings and amenities at every hotel offers. I'd give it a 90% accuracy rate when using it with Hotwire and Priceline.
4. Groupon. Sometimes you'll find a diamond in the ruff. It never hurts to check Groupon. The other night when I was looking for a hotel in Orlando, I searched Groupon and found a hotel  33 percent cheaper than the rates online. Some Groupon deals have really strict rules and regulations, but if you are flexible you're in for a great deal.
5. Get Social. Contact the hotel and ask them what their social channels are, or just do a quick online search. More specifically on Facebook, Twitter and Instagram. I was at the Intercontinental in NYC and was mentioning them on Twitter, when I got back to my room I had a gift basket with complimentary drink cards inside. Score!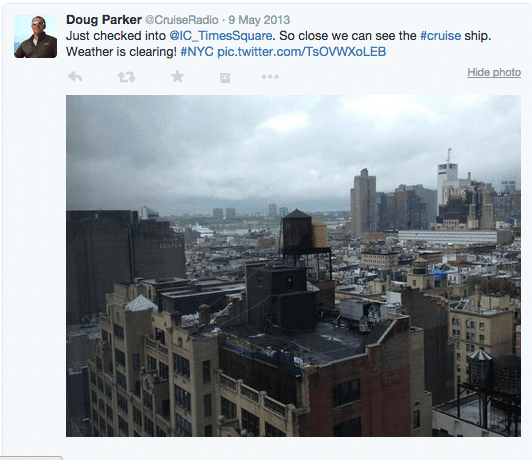 Brands love for you to talk about them and some of them are willing to show their appreciation.
In closing
These are just a few ways to save money on your hotel. I know when I go to a new cruise port I like to spend a couple days pre-cruise and post-cruise decompressing, with the tips above, you won't have a problem kicking back without breaking the bank.
Also, I'd be remiss not to mention the importance of travel insurance when you're traveling. My Winter Storm Juno experience in NYC that canceled over 6500 flights is evidence that you should always expect the unexpected.
Have you subscribed to Cruise Radio yet? Subscribe to us on iTunes and Stitcher Radio Network.