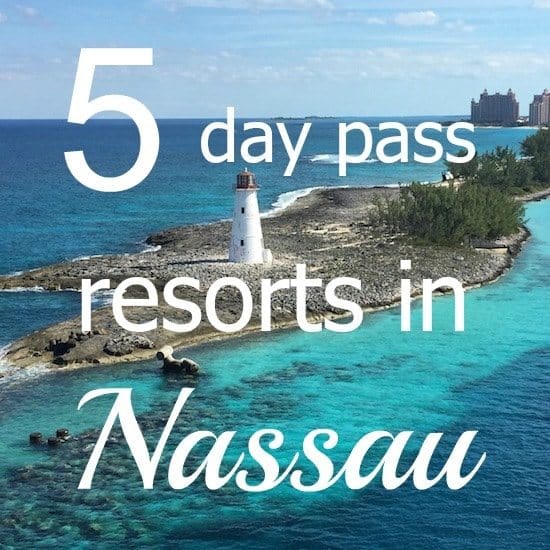 Looking for a little rest and relaxation in Nassau, Bahamas, but want to escape the Atlantis resort? Consider one of these other Nassau day-pass options.
1. Hilton Colonial
Located on Bay Street, within walking distance from the port, this resort offers a private beach, a pool, two restaurants, and two bars. If you're looking for a laid back, relaxing location within walking distance to downtown Nassau, this is the place to be.
Cost: US $60 adults; $30 child (ages 6-12); kids 5 and under free
Website: https://www.resortforaday.com/British-Colonial-Hilton-Day-pass-p/nsnabch.htm
2. Melia Nassau Beach
Located on West Bay Street, this resort sits on Cable Beach and includes three pools (featuring waterfalls), six restaurants, a kid's club, a gym, and is located just a few minutes from downtown Nassau.  You will need to get a taxi from the port… but if this resort sounds like your style, it's worth it.
Cost: US $35
Website: https://www.melia.com/en/hotels/bahamas/nassau/melia-nassau-beach/index.html
3. RIU Hotel
Located on Cabbage Beach on Paradise Island, this resort offers buffets throughout the day, a sports bar, a swimming pool, pool bar, seaside restaurants, a Jacuzzi, and a pristine white sand beach.  They also have a variety of activities throughout the day.
Cost: US $75 adults; $60 teens (12-17); $50 kids (3-11); kids 2 and under are free
Website: https://www.riu.com/en/Paises/bahamas/paradise-island/hotel-riu-palace-paradise-island/index.jsp
4. Comfort Suites Atlantis
Located just steps away from Atlantis, you'll not only have access to their private pool and bar but full access to Atlantis also, as well as signing privileges at many of their restaurants and lounges.  They're also the only hotel on Paradise Island to offer free wifi.
Cost:$180, includes room and access to parks – four people max.
Website: https://www.comfortsuitespi.com/about-comfort-suites.php
5. Sandals Royal Bahamian Spa Resort
Located on West Bay Street on Cable Beach, this resort boasts an offshore island, seven pools, six whirlpools, and a number of restaurants and bars. They also have a spa, as well as lots of activities throughout the day. With lots to choose from here, you will find something for everyone.
Cost: US $110 per person
Website: https://www.sandals.com/main/bahamian/ba-home/