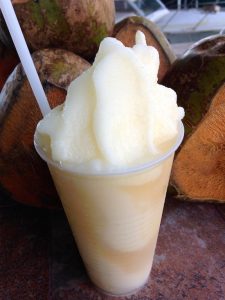 If your idea of paradise is a warm, sunny beach drenched in sunshine and surrounded by swaying palm trees with a frosty adult beverage in your hand, this is the list for you. We've scoured the Caribbean, done the taste testing (the hard work) and come up with the 5 of the most popular Caribbean bars.
Sunshine's Beach Lounge, Nevis. Located in the West Indies, the tiny of island of Nevis proves that size doesn't matter. Famous equally for its "Killer Bee" rum punch and the celebrities that visit on vacation, this Caribbean bar is picture perfect. On the island for over 12 years, when you stop in be sure to take a selfie with Sunshine himself. Don't except too many amenities, Sunshine keeps it pretty basic: no phone, internet or television – but you won't miss them as you're enjoying the local music, the Caribbean's best rum punch and tasty treats.
Jack's Shack, Grand Turk.  When in Grand Turk, don't stop at Margaritaville – keep walking down the beach until you run into Jack's Shack. This local favorite sits right on the white sand beach overlooking the crystal waters of Turks and Caicos. You won't just find great drinks and delicious food here, you'll also get free internet access, lounge chairs, beach umbrellas and chairs, volleyball gear, showers and restrooms and storage lockers. And bonus, this bar even has its own mascot – "Spotty," a 7 foot wing span spotted eagle ray. Check out their website here.
Rick's Café, Negril. Talk about a classic. Founded in 1974, this bar – located on the side of a cliff – has long been a favorite of locals and tourists. This island bar has been destroyed by two separate hurricanes, yet comes back bigger and better every time. Today, you can drink, swim (in the cliff-side pool or ocean), eat and lounge your day away. The can't miss attraction here: sunset. Oh, and if you want some liquid courage to take a refreshing jump off the cliff, try a Rick's Famous Planter's Punch.
Iggies' Beach Bar, St. Thomas. Weekly Carnival nights, bands in the sand and crazy-theme parties are just part of this bar's signature spirit. This bar is just steps from the ocean and offers both day and night experiences for locals and tourists. Because of its location, you'll find hotel guests, locals and cruise passengers at this beach bar. If you're into live music, this is the bar for you. And if you're up for the challenge, order the VooDoo Juice.
Soggy Dollar Bar, Jost Van Dyke. When your cruise ship calls into the British Virgin Islands, hop another boat and make your way to the island of Jost Van Dyke. That's where you'll find this gem of a Caribbean bar – home to The Original Painkiller. This combination of rum, fruit juices and nutmeg compromise this essential Caribbean drink. The bar's classic ring game will definitely get harder the more Painkillers you consume. One of the reasons this bar is only accessible by boat? Electricity and paved roads only arrived here in the 1990's – meaning this island is pretty much an unspoiled paradise.
What's your favorite bar to visit on a cruise? Have you been to any of these popular places?
Have you subscribed to Cruise Radio yet? Subscribe to us on iTunes and Stitcher Radio Network.
By Sarah Phillips