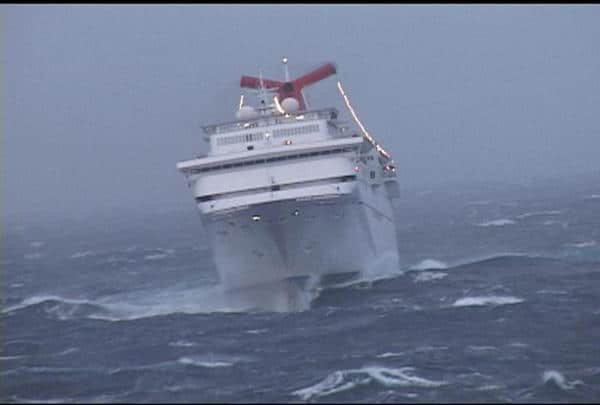 Thanks to Hurricane Matthew, a whole lot of cruisers are having their itineraries turned upside down this week.
For example, the Disney Magic, sailing out of New York City, announced that instead of heading for the sunny shores of Castaway Cay and the Bahamas, they would instead be sailing north toward Nova Scotia! And while it's understandable that some cruisers – especially those looking forward to hitting the beach – might be unhappy with major changes to their planned itineraries, they're not necessarily the worst thing in the world… and here's why!
READ MORE: HURRICANE MATTHEW DISPLACES CRUISE SHIPS
1. It Can Mean Added Perks
When cruise lines have to make big changes, they know feathers will be ruffled. So it's not at all unusual that they will, in addition to offering refunds for those who cancel or discounts to passengers who rebook on a different date, show folks who decide not to cancel a little love. In the case of the aforementioned Disney Magic sailing, those who decide against cancelling or rebooking are receiving $100 in on-board credit per passenger.
2, The Ship Could Be Less Crowded
It's a safe bet that a fair number of people will decide to cancel or reschedule their vacations rather than trade their beach togs for Canada-in-the-fall attire. And given that such itinerary changes often happen at the last minute, it's difficult for the cruise lines to resell the cabins of those who abandon ship. And that can mean some extra room for those who wind up sticking with the new itinerary!
3. It's Safer
Let's face it: The cruise lines are about as interested in changing the itineraries as passengers are in having their plans tossed up in the air like a kid playing 52 pick-up with a deck of cards. But they take the safety of their guests extremely seriously, and do not make these decisions lightly. So if they decide to switch things up, there's a good reason… and it'll ultimately provide you with a much better vacation.
4. Rescheduling Is A Pain
Unless you're A) independently wealthy; B) traveling solo; or C) as flexible as a squad of Russian gymnasts, it can be pretty difficult to reschedule your vacation at the last minute. If, like many people, you're traveling with family or a group of people, it can become downright nightmarish! Which is why, despite disappointment that might be felt regarding the itinerary change, it could ultimately be easier to just go with the flow.
5. Hey, You're Still On A Cruise, Right?
Maybe it's just our love of cruising talking here, but we don't much care where the ship is heading as long as we're on board and there's a well-stocked bar! We get that not everybody feels the same way, and that if you've been looking forward to a particular itinerary for a while, it's a bummer to have your plans scrapped by Mother Nature. Maybe it'll help to think of it this way: Now you have an opportunity to do not only the new itinerary, but another cruise to the place you originally wanted to go!
Have you ever had a trip derailed by a major itinerary change? How did you wind up handling the situation?