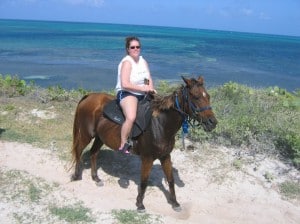 Family reunions. Weddings. Spring Breaks. Old Friends. There are lots of large groups sailing on cruise ships. But what about those sailing solo? You know what? They're having a different kind of adventure. And here are 5 reasons why sailing solo is pretty awesome.
Adventure. Sailing by yourself, especially the first time is truly an adventure. You don't have the safety net of a friend or family member sailing with you. Your cell phone won't work at sea for the most part, so you can't even fall back on your followers or friends. Hit up some activities, bars, a shore excursion or two and make some new friends. Try some new adventures: get out there and go horseback riding on the beach or zip lining through a rain forest.
Safety. Cruising is very safe. It's one vacation opportunity where it's OK to be alone and not have to worry too much. Other vacation destinations offer some security concerns for solo travelers, but cruising gives you the freedom to enjoy your vacation all by yourself.
Opportunity. When you sail by yourself, lots of opportunities exist that normally wouldn't. One of my best friends sailed by herself this summer and got to do something she's always wanted to do. She's a huge foodie (I'm not). She got to do the Chef's table and found the experience to be worth every single penny. She told me later I wouldn't have liked it and she's glad she got the chance to do it without feeling guilty for cutting into our hanging out time.
Freedom. As a solo sailor, you're responsible for your own good time. The trip will only be what you make it. You have the freedom to make your choices – to join in on everything or to slip away to the serenity space. If the cruise is to get away and really be alone; you can do that. If your cruise is a chance to break out of your comfort zone and try new things, you can do that too. You truly hold all the decision making power and it's not only freeing, it's empowering.
Experience. Sailing alone is truly an experience. As Doug recently wrote, you may be sailing alone, but you're on a ship full of potential friends for life. Plus, you're probably not alone; there are likely other solo sailors onboard with you. One of my co-workers only sails solo. He loves being able to spread out in the cabin, eat at his favorite places and make new friends. One of his favorite vacation experiences is in fact, sailing different cruise lines as a solo sailor.
Have you ever sailed by yourself? Would you recommend it? What's your favorite part of sailing solo?