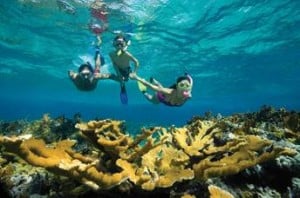 By Sarah Phillips
Just because you're going on vacation and exploring the world, doesn't mean you want to throw common sense out the window. You still need to be aware and alert. Here are some tips to help keep you safe on your shore excursions.
Here are five rules of cruise excursion safety:
1. Stay reputable. Reputation is truly everything. If you're not booking directly with your cruise line, it's important you go with reputable companies like Shore Excursions Group or Viator. Do your research: check out cruise forum sites (think cruisecritic.com), ask your traveling friends, go to reputable travel sites (like this one) for advice and recommendations.
2. Stick together. Remember in grade school you'd have a 'buddy' for field trips? This is a lot like that. Stay with your excursion group and only 'wander' as advised by your tour guide. You don't want to accidentally get left or forgotten. This is especially important if you've booked this excursion solo. Find some new friends and make sure you don't lose them.  It's always important to bring the ship's emergency contact phone number with you too – just in case.
3. Take only the essentials. This one's common sense anytime you leave the cruise ship. You don't need everything you've brought with you. Remember, this is the beauty of cruising – exploring new ports and places without having to lug all your stuff all the time. Bring a limited amount of money and credit cards; leave some on the ship too.  Pack smartly – you have to carry everything you bring with you. Oh, and save the jewelry for formal night.
4. Invest in a travel bag. There are lots of styles of travel bags out there. Do research and pick the one that's best for you. Some good things to look for – hidden pockets, lightweight, durable, and comfortable. I've been cruising for about 7 years and my travel bag has transitioned as I've traveled more. I started with a heavy, normal shoulder bag and now have an awesome cross body bag with zippers and hidden pockets that's been all over the world with me. Find what works for you and make the investment.
5. Keep the time. Don't rely on your tour guide to keep time. Yes, they're reliable and don't want you to miss the ship either, but it's good to control what you can. Ship time is often different than island time. Keep a watch with you – cell phones often switch to island time automatically.
If you have any rules for your shore excursion safety we'd love to hear them.
Be safe out there!
Subscribe to our Cruise Updates.