According to a TripBarometer trends report from TripAdvisor, seventy five percent of world travelers consider their smartphone their number one travel essential, even ahead of toiletries. If you haven't taken the time to find an international cell phone and download all the necessary and useful apps to use abroad, be sure to add that to your to-do list. Here are five of the best smartphone features for your next cruise abroad.
1. International Cell Phone Plan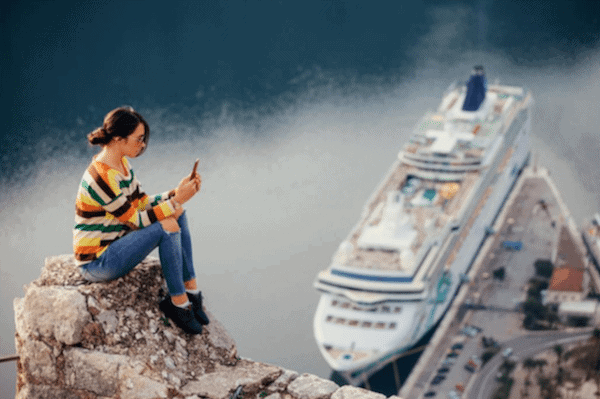 Before your cruise undocks, be sure you've set up an international plan for the trip to avoid unwanted charges and fees. The ideal plan would allow you to call, text, and even post to social media to keep your family and friends up to date on your trip, virtually from any location. For more efficient streaming and data usage, the new LG G6 smartphone is highly recommended and makes the perfect travel companion with its waterproof and shockproof exterior.
Read More: 5 Tips for Cell Phones at Sea
2. iTranslate Voice Lite
If you plan on cruising to international locations and stepping off the ship, using a translation app would prove to be extremely beneficial. The language translation app iTranslate Voice Lite, can help spark up a conversation with new friends, communicate with restaurant and bar staff, or haggle for souvenirs at the local market without the stress that comes with a language barrier. It works by simply speaking into the app, where your dialogue will be picked up and translated into the language of your choice, with up to 40 options to choose from. The conversation continues as the other person involved in dialogue is able to respond by speaking back into the app.
3. Cruise Card Control App
It's very easy to get caught up in all of the glamour and luxury while on your cruise and overlook your budget, losing track of numbers you crunched beforehand. The smartphone app Cruise Card Control allows you to input all of your expenses, keeping a running list of every dollar you've spent. Once you've inputted your budget, you will create different categories based on spending habits like food, drinks, entertainment, etc. With the app, it's very easy to compare your expenses to the respective limit you created for each category and stay within your overall budget. The app even offers different strategies and money saving techniques while on the cruise, to ensure you come back to port well under your budget.
4. WifiMapper App
Once your ship docks at a port and you leave to begin exploring, you will lose Wi-Fi connection making it very easy to get lost without navigating abilities. The WifiMapper app finds Wi-Fi connections that other users have inputted from cafes, coffee shops, restaurants, bars, etc. Follow the app to a Wi-Fi connection you can use off the ship and if you find Wi-Fi that's not listed on the app, be sure to contribute to assist other travelers that are also looking to get connected.
5. Prisma App
The Prisma smartphone app transforms photos taken on your phone into creative and artistic pieces comparable to a modern-day Picasso. The app allows for a fun way to manipulate your photos, giving new life using filters and templates to give your cruise pictures a different perspective.
Do you use your cell phone on your cruise?