Juneau, Alaska, the capital of Alaska and also known for some of the best glacier and wildlife viewing in the region. There are dozens of things to do in Juneau and we whittled down a good starting list for you.
1. Visit Red Dog Saloon. This is oldest man-made attraction in Juneau. Picture a saloon with the swinging doors, live acoustic music and complete with sawdust on the floor. They have pints of local brew and local bar food. The saloon used to sit two blocks away next to the Alaska Hotel but moved to its current location, in one piece, in 1988. This is about a five-minute walk from the cruise pier and displays original firearms from Alaska's mining era. More information: www.RedDogSaloon.com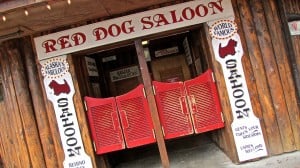 2. Mendenhall Glacier. Just a short 20-minute drive away from the cruise pier. Located in the Tongass National Forest, this free park allows spectacular photo opportunities at the base of the glacier, along a photograph trail by a cascading waterfall and from the visitor centers. You can choose to go in the visitors center for $3 and take part in lectures from park rangers as well as learn the glacier history. You can take an organized tour to the glacier, a shuttle or a cab from the cruise pier.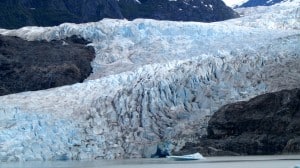 3. Mount Roberts Tramway. Next to the glaciers, this is one of the most stunning views that Juneau has to offer. Mount Roberts is located at the cruise pier at the port. If you step off your ship and look up – you can't help but to notice (3,819-foot). There's a six-minute tramway that takes you to the top of Mount Roberts where you can take part in hiking, dining, watch a movie, the nature center, see a protected bald eagle and take photos from a few areas around the mountain. The fee is $31 per person (discounted for children) but the value trumps the price of other cruise line offered shore excursions. More information: https://www.goldbelttours.com/mount-roberts-tramway
4. Whale Watching. A few companies offer whale-watching tours out of Auke Bay and at the Juneau cruise port. On these tours you'll head out to Stephen's Passage in search of the humpback whale, sea lions and bald eagles. One company, Allan Marine Tours, is so confident that you'll see a whale that if you do not see a whale they'll hand you a $100 bill when you get back to the pier. But don't think you'll be getting a refund, in 10-years they have seen a whale on every voyage out of Auke Bay. More information: https://www.allenmarinetours.com
5. Eat Local. From a hosted all you can eat salmon bake to Tracy's Crab Shack at the cruise pier – local fare is plentiful in Juneau. Some of the freshest salmon, crab and halibut are caught in the waters of Alaska and served up fresh daily. Want to make your mouth water? Check out the menu at Tracy's Crab Shack here.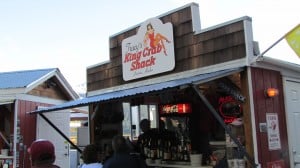 There is plenty to do in Juneau, Alaska from just staying at the pier to booking an actual tour. If you want to do a great Juneau tour, consider the Mendenhall Glacier, Whale Watching and Salmon Bake. Just remember to do your research before booking anything – even if you want to stay at the pier – you'll enjoy Juneau. There's plenty to do and see in this southeast Alaskan town.
CLICK HERE TO VISIT OUR GALLERY OF OUR DAY IN JUNEAU.