The Federal Bureau of Investigations began collecting data about crime aboard cruise ships in 2007, and later revealed that 65 percent of reported cruise ship incidents involved theft, fraud and other suspicious activity. While a cruise should be a relaxing getaway from life's worries, take steps to protect your identity both on board and when you step off the boat.
Identity theft is the last thing you need to worry about, so consider these tips:
1. Keep Documents With You or in a Secured Safe at all Times
Take the same precautions on a cruise or a shore excursion as you would to safeguard documents during travel. Instead of leaving a passport in your luggage, carry it with you to shore or lock it in the cruise cabin safe, as Cruise Critic points out. If you're carrying a purse or wallet, do not let it out of your site or store it somewhere you can't find it. Even when you're on the ship, do not let your guard down when it comes to revealing your personal information. Do not leave a pocketbook or wallet on a table in the dining room while you refresh your plate at the buffet, or pick up another drink from the bar.
2. Fraud Alert Setup to Receive Notice of ID Theft on Cruise
Whether someone nicks your credit card from the cruise bar or tries to open a card in your name while you're cruising, a fraud alert notifies you so you can take immediate action. LifeLock recommends that you choose a fraud alert system with 24/7 monitoring, so you can contact customer support at any time during your travels, especially if you're cruising overseas.
3. Don't List Your Full Name or Address on Luggage Tags
Keep identifying information on your luggage tags to your first initial, last name and a telephone number. Listing your full name and home address gives criminals basic personal information they can use to steal your identity. If savvy criminals watch you embark, not only will they have your personal information but they'll be able to find out how long you'll be gone from a cruise itinerary, and may try to break into your home.
4. Only Use Secured Wireless Networks
Whether aboard or on a shore excursion, Stanford suggests avoiding any Wi-Fi network that is unsecured as a hard rule. A thief can access data from unsecured networks and may be able to log into your email accounts and obtain sensitive information. They could potentially learn all about your travel plans, bank data, home address and other basic identity elements. A secured network uses firewalls to block outside traffic, so you can email with ease.
5. Be Wary of "Helpful Strangers" and Common Scams
Pickpockets are a major problem in many countries. Vigilance at all times helps protect you from credit card theft and pickpocketing. Learn about common pickpocketing scams, like the "helpful stranger" scam in which someone might spill a drink on you and other locals may come to your aid, posing as helpful strangers. In reality, they may be trying to isolate you so they can take your wallet. The more you know about pickpocketing setups, the better chance you'll have of making it back on board with all of your important documents.
Do you have any tips for staying secure at sea and avoiding identity theft?
Pin this!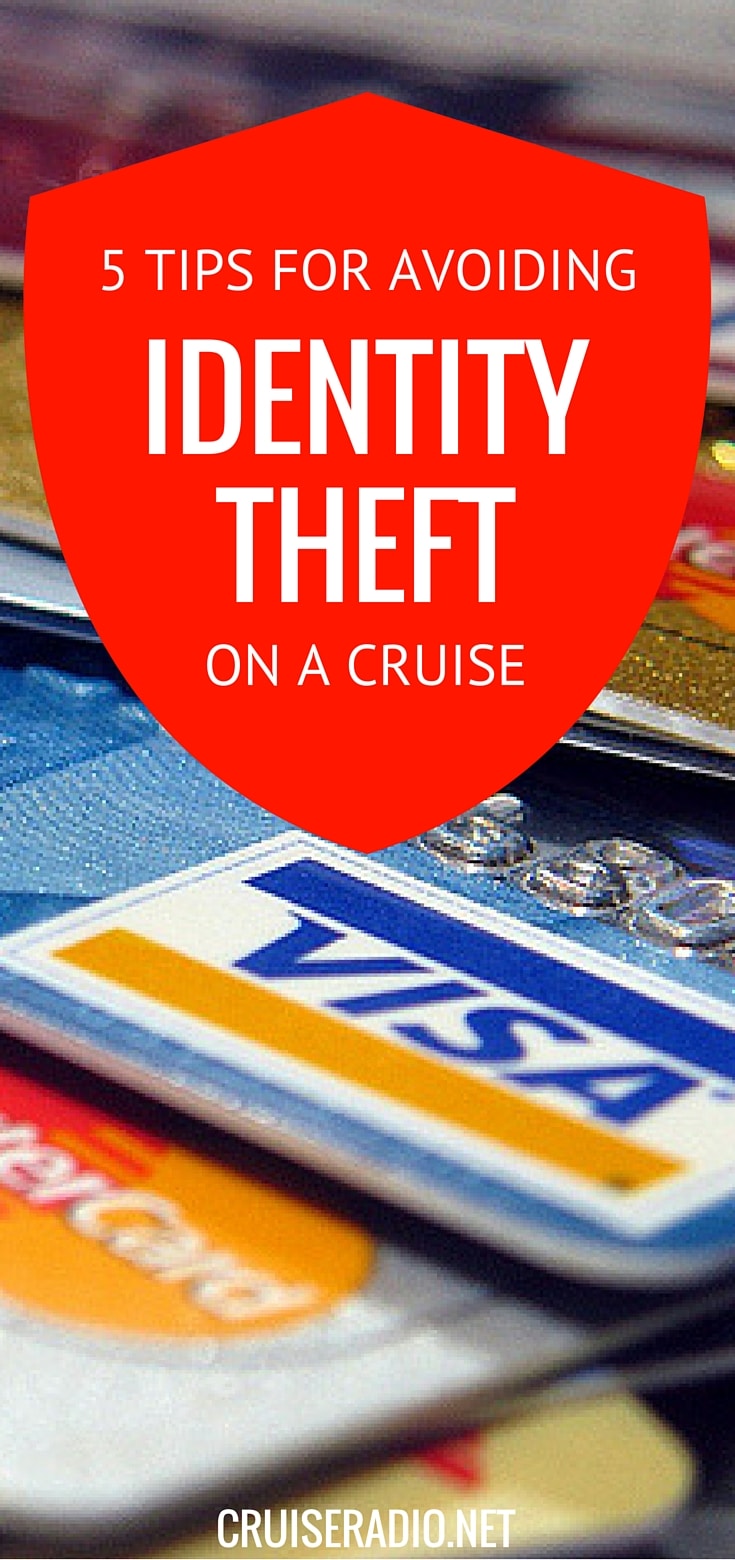 pin image photo courtesy of frankieleon on flickr.