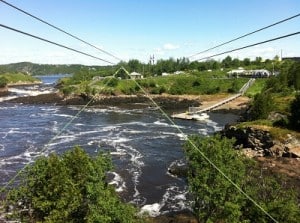 When you think of Canada/New England in the summertime you may think of scorching hot temps (like everywhere else in the country) and have the mindset of a Caribbean cruise itinerary, but it's a lot different.
Here are five things I learned on my latest cruise to Canada and New England on Carnival Glory.
1. Bring a sweatshirt
Just because you're traveling from a northern port doesn't mean you won't chilly at night or in the morning. When we arrived in Saint John, New Brunswick, it was in the lower 60's and I had to wear my sweatshirt for my zip line excursion. The nighttime temps are also cooler when taking a Canada/New England sailing. We experienced around 55 F a couple of nights.
2. Take Binoculars
We had a chance to see whales the first sea day and the last sea day. You could see the whales blowing water through their blow holes and their tails. A lot of folks had binoculars at their side and used them.
3. Pack Sunscreen
To most people Canada is a "cold" part of the world, but I am proof that you can get a burn. If you don't pack sunscreen then pack aloe, because you'll need it.
4. Use a credit or debit card in the port
If you roll into a shop or restaurant with $100 bill and expect to get back change in US Dollars, it won't happen. Most places will give change in Canadian dollars, not USD. A credit or debit will avoid having to make a stop to the currency exchange.
5. Research the ports
Before you get to the port make sure you know what you're going to do. Canada is not like a Caribbean destination, you can't just walk off the ship and wing it (well you can but you won't get far). Some (but not all) of the tour operators are contracted specially to the cruise line and will not sell you an excursion if not purchased through the cruise line.
Pin this!