If there are three things we know about New Year's Eve, it is that we will probably drink too much champagne, that we will make resolutions… and that we will break those resolutions within two weeks. But what if instead of making promises about how we will change our behavior while on dry land, this year we instead focus on what we will do during our next cruise!
6 Cruise Resolutions Actually Worth Keeping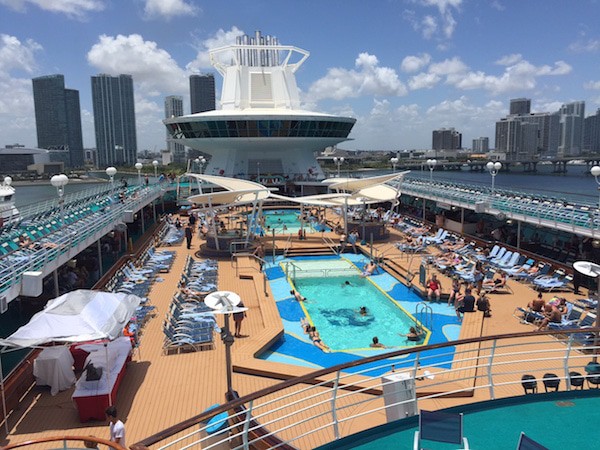 1. "On my next cruise, I will take the stairs!"
Of course, around day 2, we'll likely alter this to, "I will take the stairs… down. And the elevator up!"
2. "At least twice during my next cruise, I will visit the salad bar."
Which is not to say that we won't then swing by the dessert bar. Man can not live on lettuce alone!
3. "I will say something nice to a chair hog."
Translation: We will smile at them and be perfectly polite when explaining that after two hours, we had their belongings removed.
4. "I will spend less money during my next cruise."
If only so that we can squeeze in an extra voyage later in the year!
5. "While in the spa, I will allow myself to be upsold, just this once."
We never, ever buy the extras, but geez, the spa staff's offers get rejected so often, they'll probably be thrilled to hear "Why yes, I would like that!" at least once.
6. "On my next cruise, I will do absolutely, positively no work."
Finally, a resolution we can actually keep!
Have any cruise-related resolutions you'd like to make? Hit the comments so everyone can help you stick to them in 2017!
photo: paul gy/Flickr
Pin this: