A couple of months ago I took my first European cruise aboard Norwegian Cruise Line's Norwegian Star. While I could do many posts on the delicious food we had both on land and sea during the trip, I just want to focus on the delicious desserts. If you want to see what I thought of the food onboard overall, check out my 5 first impressions of the ship.
Delicious Desserts on Norwegian Cruise Line
1. Brownie Cheesecake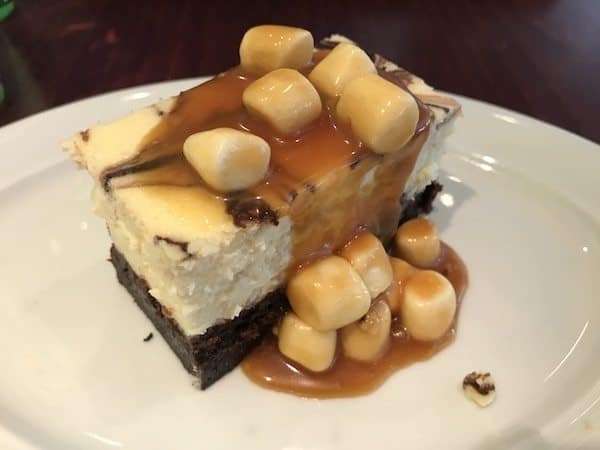 Venue: O'Sheehan's Neighborhood Bar & Grill
Can I just say OMG yum! Best of all, this delectable, rich dessert is found at one of the complimentary restaurants onboard – O'Sheehan's. A brownie base is topped with a layer of cheesecake and then caramel sauce and marshmallows, it's seriously so many good things in one! Since there were so many venues and desserts to try on the ship, I only ended up ordering this once. But if I had a longer cruise I would totally get it multiple times. It's also great to share if you just want a light dessert and don't want anything feeling too heavy in your stomach.
2. Green Tea Cake & Ice Cream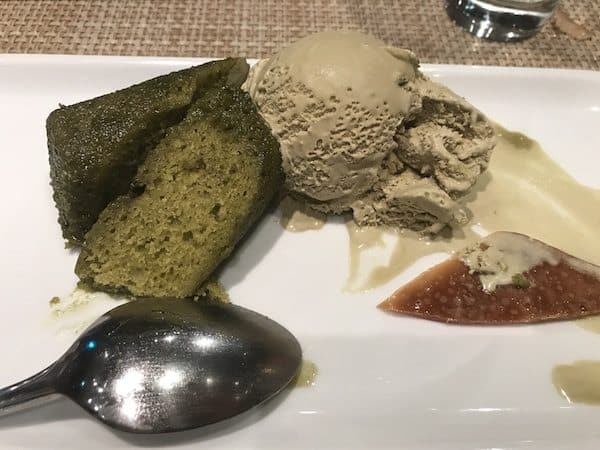 Venue: Teppanyaki
Teppanyaki is a hibachi-style specialty restaurant experience that only allows 12 guests per time slot. Everyone sits around the two side-by-side flat top grills while the chefs work their magic – and create a lot of laughs – along the way. The menu is simple and gives two options for dessert – a fruit plate and green tea cake and ice cream. Me wanting to keep with the Asian theme and try something I normally wouldn't have, chose this. Despite the deep green color that may throw some people off, both the cake and ice cream were delicious and had a nice green tea flavor without being overpowering. Two thumbs up!
3. Lemon Ricotta Cheesecake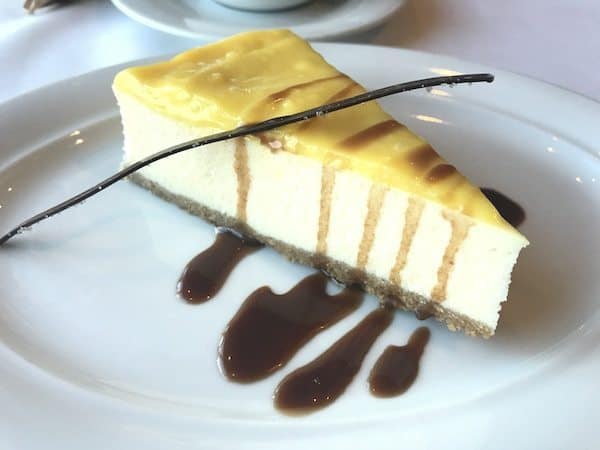 Venue: La Cucina
Being the lemon fanatic that I am (seriously, you should see how many things I own that have a lemon print or are lemon-themed), the ricotta cheesecake with lemon curd on the dessert menu at Italian specialty venue La Cucina caught my eye. Honestly, it caught me off guard when I took my first bite. It was much lighter and more textured than I thought it was going to be. This is the type of dessert you'll want if you are stuffed full from the pasta and want something that won't weigh you down too much more. It was great for that, and I think it just slightly disappointed me because I was expecting something rich and smooth. But still, I would eat this anytime and it really was delicious.
4. Chocolate Tart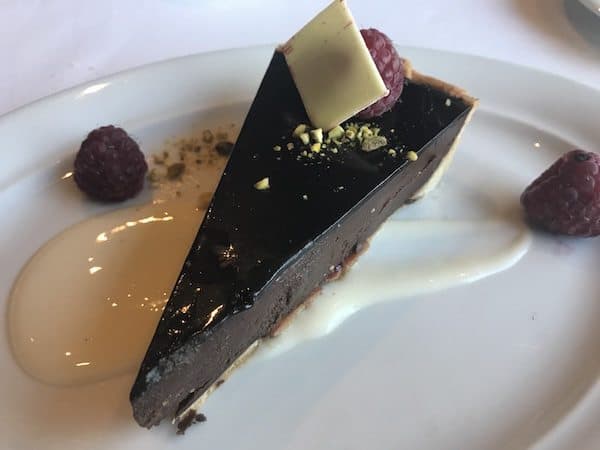 Venue: La Cucina
If we're being honest, the chocolate tart with raspberries also caught us off guard at La Cucina. I guess this restaurant was full of dessert surprises! Doug ordered this and he is not a huge chocolate fan. He'll eat it, but in most cases chocolate desserts wouldn't be his first choice. Obviously the menu description did not quite relay to us that this was the darkest, richest chocolate dessert that has ever touched my tongue. For me, it was a dream come true. I could not get enough of the chocolate tart and would eat it every week if I could. As a result, we sort of shared desserts and then I ended up eating the majority of both! This is a five-star dessert for me, no question.
5. Warm Chocolate Lava Cake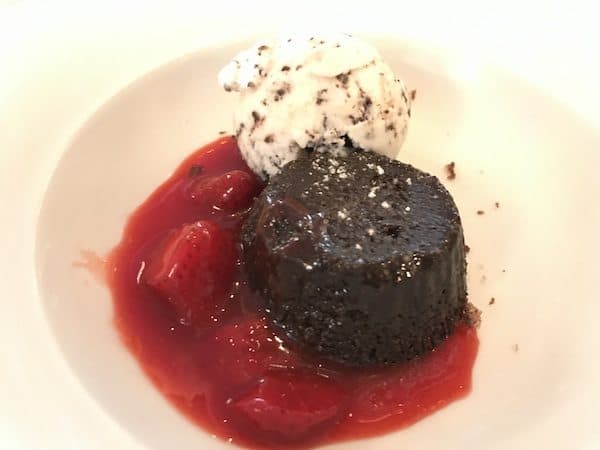 Venue: Main Dining Room
Okay. So I hear that Carnival has some to-die-for chocolate melting cake, and I will be able to try that for myself very soon (Hello Vista!). But based on Norwegian Cruise Line's chocolate lava cake, I'm straight-up saying ahead of time that I think it gives Carnival a run for its money, and may be better. I'll report back once I've been able to try Carnival's. This warm lava cake is so rich and ooey-gooey; a perfect little dessert with ice cream and strawberry compote to round it out. I could not get enough and ordered it three times throughout the course of our voyage. Never take this off of your main dining menu, Norwegian!
6. Raspberry Crème Brûlée / Oreo Cheesecake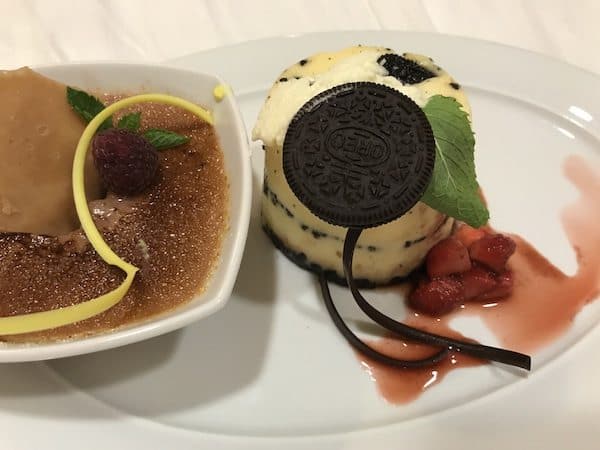 Venue: Cagney's Steakhouse
So this is actually two desserts, which we took to-go from the steakhouse because we were so stuffed from dinner that night! The raspberry crème brûlée was excellent – that hard top "shell" we all love and the smooth creamy inside, in this case with a light raspberry flavor. I definitely recommend this for anyone who loves crème brûlée. The Oreo cheesecake was also wonderful, and comes as no surprise since by now you've discovered my deep love of chocolate and cheesecake. Also can I mention that I actually love how most portions on cruise ships are pretty small compared to what we are used to in landslide restaurants? (At least in the United States!). It gives you a good taste and dessert satisfaction without filling you up to the point of exploding or feeling guilty for wasting half your plate.
Without a doubt, I had some delicious desserts during my cruise on Norwegian Star. The good news is, these venues are not Star-exclusive and can be found on some other Norwegian Cruise Line ships as well. Chances are no matter which ship in the fleet you're sailing, you'll be able to find at least a few of the sweet treats I mentioned if you're wanting to try them for yourself. Happy cruising and happy dessert-eating!
SaveSave