A  weeks ago I had the opportunity to board the 4,000-guest Norwegian Getaway for a one-night preview sailing. Though one-night really wasn't enough to experience the whole ship, it gave me a good sense of what all the venues were all about.
After an awesome christening celebration with Miami's own Pittbull and the Miami Dolphin cheerleaders, it was off to exploring this very Miami-like ship.
 Here are six hip things about Norwegian Getaway:
Illusionarium. This 275-seat dinner show dives deep into the world of magic as guests enjoy a show and a three course dinner as you head into the 1800's with the brilliant Professor Vernon Royce. Some of the acts really had me scratching my head, like, how did the make a broomstick float around the room without strings or how did they cut a woman in half and make her disappear? There's a $39 surcharge here but worth every penny for the dinner and show you'll get.
Grammy Experience. The Grammy Experience at Sea is a cool venue that mixes both musical histories with modern day music. The museum in the experience is curated by the Grammy Museum in Los Angeles, and you'll even find some musical celebrities dropping by and performing on the ship like Nestor Torres or jazz musician Sammy Figueroa.
The Waterfront. If you could imagine being in a restaurant on your favorite beach, then you'll understand the concept of the Waterfront. These interconnected indoor/outdoor restaurants make it the best of both worlds. With venues like Celebrity Chef Geoffrey Zakarian's Ocean Blue and Raw Bar or TLC's Cake Boss Buddy Valastro, you'll have endless dining options.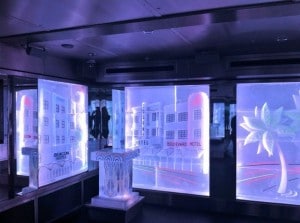 Ice Bar. 17 degrees in the Caribbean? Yes, please! If you've ever driven down Miami's Ocean Drive, the Ice Bar will be a familiar site with art deco-style figures like a "Welcome to Miami Beach" sign or a life size iced alligator. The cost for this venue is $20 per person but include two signature cocktails made from SVEDKA vodka and Inniskillin ice wine. Oh yeah, the seating, bar and glasses are made of ice too — and yes, a parka is provided.
Sports Complex. The three-story sports complex is the whole package. 5 water slides, two swimming pool, a ropes course, rock climbing wall, a climbing cage and oh yeah, The Plank, where guests can walk eight feet over the side of the ship. This is bound to be popular with adults and kids, especially on sea days.
Eastern Caribbean sailings. If you're a shopper, you'll truly love this experience because Norwegian Getaway is sailing year-round Eastern Caribbean sailings to Philipsburg, St. Maarten; St. Thomas and Nassau, Bahamas. Maybe head to Airport Beach in St. Maarten and watch planes land literally feet over your head or check out the stunning Coral World in St. Thomas or the amazing sights of St. John's Beach.
With 28 dining venues, two Broadway shows and a slew of other entertainment, I found my time on the Norwegian Getaway to be packed with excitement.  The only thing I wish, is that I could have stayed on longer!
Find out more about Norwegian Getaway here.