What is there for teens to do on a cruise?
The answer? Plenty!
Almost every cruise line you can think of has dedicated spaces and activities for teens, so they aren't left out aboard a cruise ship whatsoever!  Here are 6 popular cruise line teen programs, and some of the activities you'll find in them.
1. Carnival

Carnival Cruise Line is ready to party with teens on their sailings.  For ages 12-17, they have a variety of themed parties throughout your cruise, from Mexican fiestas, to a red carpet party to a sunglasses party.  For ages 15-17, there's Club O2, where teens can play sports, do karaoke, dance, and join the fun with pool parties.
There is also a teen's active play area, where they can play sports such as dodgeball, basketball, ping pong, and foosball. Circle "C", for ages 12-14 and Club O2 have video games and competitions, where your teen can show off their skills on the big screens.
Most Carnival ships feature a video arcade, which is open to all ages and open 24 hours a day.
For more information, click here.
2. Royal Caribbean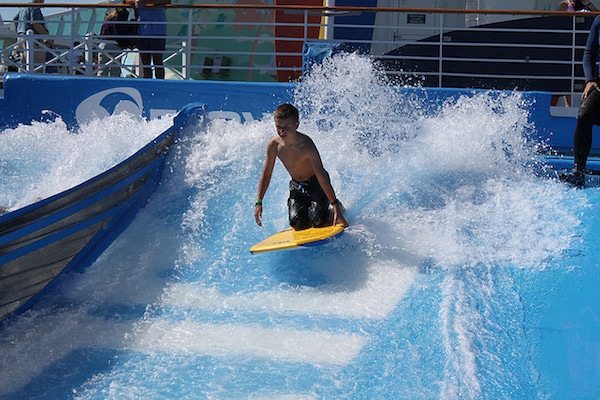 Royal Caribbean has a very laid back approach to their teen program.  Ages 12-14 can participate in rock climbing competitions, dodgeball, and Dance Dance Revolution, and enjoy a night of open mics and talent shows.  There are also BBQ and movie nights, so there's plenty for them to choose from.
For 15-17 year olds, there are sports, Wii competitions, and karaoke.  They also are able to let loose with theme nights, teen dinners, and pool parties.  Each ship features a teens-only lounge as well as a teen-only nightclub when the energy gets high.
Royal Caribbean also offers a teen spa, the YSpa with services specifically created for them, like Sole Mate pedicures and Acne Attack facials.
For more information, click here.
3. Norwegian

Norwegian offers a program called Entourage for 13-17 year olds.  Teens can take improv classes, create graffiti masterpieces, and make balloon sculptures.  And like the kids, teens can participate in circus school, doing things like juggling and stilts, which culminates in a circus show at the end of the cruise.
Teens can also play sports, with each other as well as with the teen counselors, as well as play the Wii and watch movies.
One thing Norwegian Cruise Line is known for is its parties, and the teens are not forgotten!  Party themes vary depending on what ship you're on, but themes range from the popular white hot party, to a glow party, and college night.  Your teen will have fun dancing the night away with parties that include everyone, as well as parties just for them.
For more information, click here.
4. Princess
The teens-only lounge aboard Princess Cruise Line ships, Remix, is a place for them to relax and have fun in their own space.  The lounges have video games, foosball tables, the latest movies, and music.
Teens can take part in hip hop dance classes, mocktail competitions, DJ workshops, and sports tournaments.  There's also makeovers, dance parties, talent shows, and late-night movies.
On formal night, Princess offers a teens-only dinner, where there's a section of the dining room reserved just for them, where they can eat a formal dinner with their new friends.
For more information, click here.
5. Disney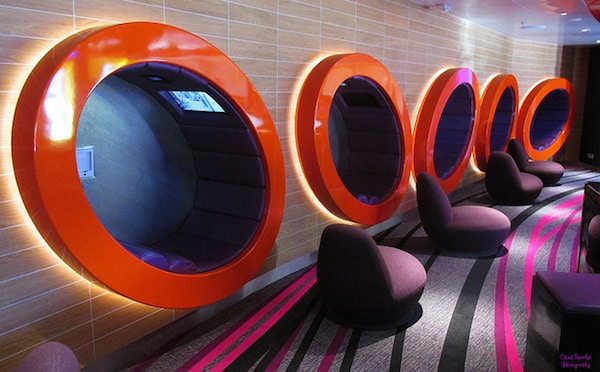 It's no secret that Disney Cruise Line has a big focus on families, and teens are well taken care of aboard their ships.  Tweens ages 11-14 can enjoy Edge, a lounge featuring an illuminated dance floor, a video wall comprised of 18 LCD screens acting as one giant screen, and activities such as comedy games and ghost voyager hunts.
Vibe is an indoor-outdoor lounge for 14-17 year olds and features a coffee bar, a dance floor, video wall, and media room.  Teens can participate in nighttime dance parties, karaoke contests, and dance competitions, as well as other activities throughout the day.  The outdoor portion of Vibe features a sundeck complete with lounge chairs, splash pools, and misters, as well as outdoor games.
Exclusively on the Disney Dream and Fantasy is the Senses Spa & Salon, which houses a special spa just for teens – Chill Spa.  It features fun treatments like an ice cream manicure and pedicure, a hot chocolate wrap, and an acne attack facial.
For more information, click here.
6. MSC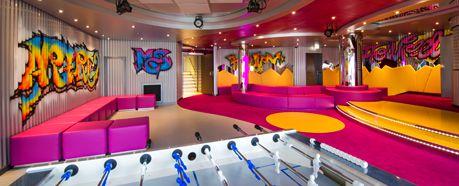 MSC Cruises has a Young Club for ages 12-14, and a teens club for ages 15-17.  Both of these clubs feature a number of activities throughout the day, like sports and tournaments, mini golf, video games and competitions, and dance contests.  Teens can also unwind with nighttime activities such as teen movie trivia, Just Dance Live, and karaoke.
Teen events aboard MSC ships include a talent show, scavenger hunts, a formal night, the Teens White Party, and a whole lot more.
You can also buy a Teens Card, which is a prepaid debit card with your choice of limits that allows your child or teen ages 7-17 to spend money onboard as they please.
Do you have a favorite kids program at sea?