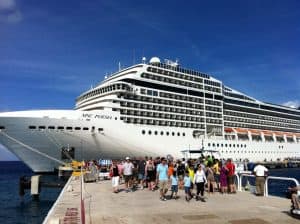 If you're used to traveling cruise lines like Carnival, Royal Caribbean, or Norwegian Cruise Line, you'll find that traveling an Italian line is much different but not in a bad way.
MSC Cruises seasonally repositions one of their ships in the North American market for five months. During those five months the cruise line goes through a transformation of catering to a primarily European demographic to American guests.
While MSC Cruises has significantly improved over the years in the market, you'll still experience a few differences:
Food: The chef's have to cater to a couple thousand taste buds. If you're used to a lot of salt you'll have to add it yourself. Expect a lot of pasta, breads, and pizza in the buffet area, aside from the general burgers and such. Meat and chicken are still served daily.
Entertainment: You can't have a comedian in a dozen different languages, it'd take forever. Expect more visual entertainment like: acrobatics, opera, magicians, dancing, and well known worldwide songs. They do have a "North American Voice," who serves as the North American cruise director.
Service: European service and American service is much different. Though the cruise line is catering to the US market, you won't find the workers coddling you, making towel animals, trying extra hard to get to know you, or being the warm friendly staff that you'd expect. I'm not saying that the service is rude by any means, more so straight and to the point. It's a culture thing.
Language: MSC is a European cruise line so naturally it's going to attract a lot of guests from around the world, while English is the primary language spoken on board, you can expect at least five different languages. Expect a longer lifeboat drill, general announcements, and activities done in different languages.
Port Lecture: The mass-market cruise lines have port shopping guides that will recommend certain shops for you to go to. This ship doesn't have one of those because they think it cuts away from on-board revenue. A lot of people go to the Caribbean to shop for art, jewelry, and crafts. This ship is really missing the boat on this one.
Late departure: With guests flying in from all over the world, the ship leaves at 7pm to accommodate late arrivals. If you have a late dinner you can get some great pictures of the sail away from Port Everglades. Also be sure to stand on deck around 5p and watch the other ships leave port.
While there's a couple of differences, the experience I had on MSC Cruises was great and I'd do it again next year.
Source: Doug Parker/Cruise Radio