If you're considering booking a cruise wedding, there are some things you should know before you book that make a cruise wedding different from a typical land-based wedding.
1. All-inclusive and hassle free
I booked my Carnival cruise wedding a few weeks ago, and I haven't done but maybe one hour of planning since. That's because Carnival is my venue, my officiant, my caterer, my server, my entertainment, my cake baker, my bartender, my photographer, and even my videographer. There's some paperwork I have to do to customize the wedding day to my taste, but otherwise that's it. I don't have to go searching for vendors and checking availability. I just made one or two phone calls.
2. Can invite guests to sail or not
My groom and I are inviting all of our guests to sail with us, but some were a bit confused and felt uncomfortable going on our "honeymoon." To us, this is not our honeymoon – this is a 7-day-long wedding celebration, and we want as many family and friends as possible to celebrate with us. It also gives us an excuse to take another cruise and call that our honeymoon. You just need to be clear with your guests as to whether they are invited on the cruise or only to the wedding.
3. Don't know your venue
For onboard weddings, you will not know where on the ship your ceremony and reception will take place until about two weeks before your wedding. This is due to a number of factors such as number of guests attending, length of reception, and entertainment requests. It can also depend on whether there are multiple weddings occurring that day.
4. Cannot take home flowers or cake
Unfortunately, unsealed foods and cut flowers are two things on the list of what's not allowed into the US according to Customs and Border Protections laws. However, the crew will keep your cake for you in the kitchen for the duration of your cruise and serve it to your guests at dinner each night. For the flowers, wedding couples can opt for the silk flower packages if they wish to keep them, or many brides are turning to Pinterest to create non-floral bouquets out of things like brooches or crocheted flowers. I'm doing this at my wedding for three reasons:
a. It's cheaper (most packages only include the bridal bouquet and groom's boutonniere – additional bouquets and corsages are extra), 
b. It's better for the environment (why waste all those flowers for one day?), and 
c. They'll be keepsakes (if it's between keeping some dead, dried-up flowers versus a bouquet of crocheted flowers made specially by my Gram, I'll take the latter). 
5. Guests cannot bring wrapped gifts
This is simply a security issue. If you want your guests to bring gifts, it may be a good idea to ask them to send them to your residence before or after the cruise instead. Another fun alternative is that most cruise lines offer honeymoon registries, which means guests can buy you onboard credit toward a variety of options like drinks, excursions, salon & spa services, etc.
6. Tuxedo rental on the cruise
It's a little difficult to return a tuxedo the next day when you're in the middle of the Caribbean. That's why most cruise lines offer onboard tuxedo rentals for the groom and groomsmen. This will save you the hassle of having to change immediately after the wedding reception so that a volunteer non-sailing guest can take your suits off the ship and return them for you.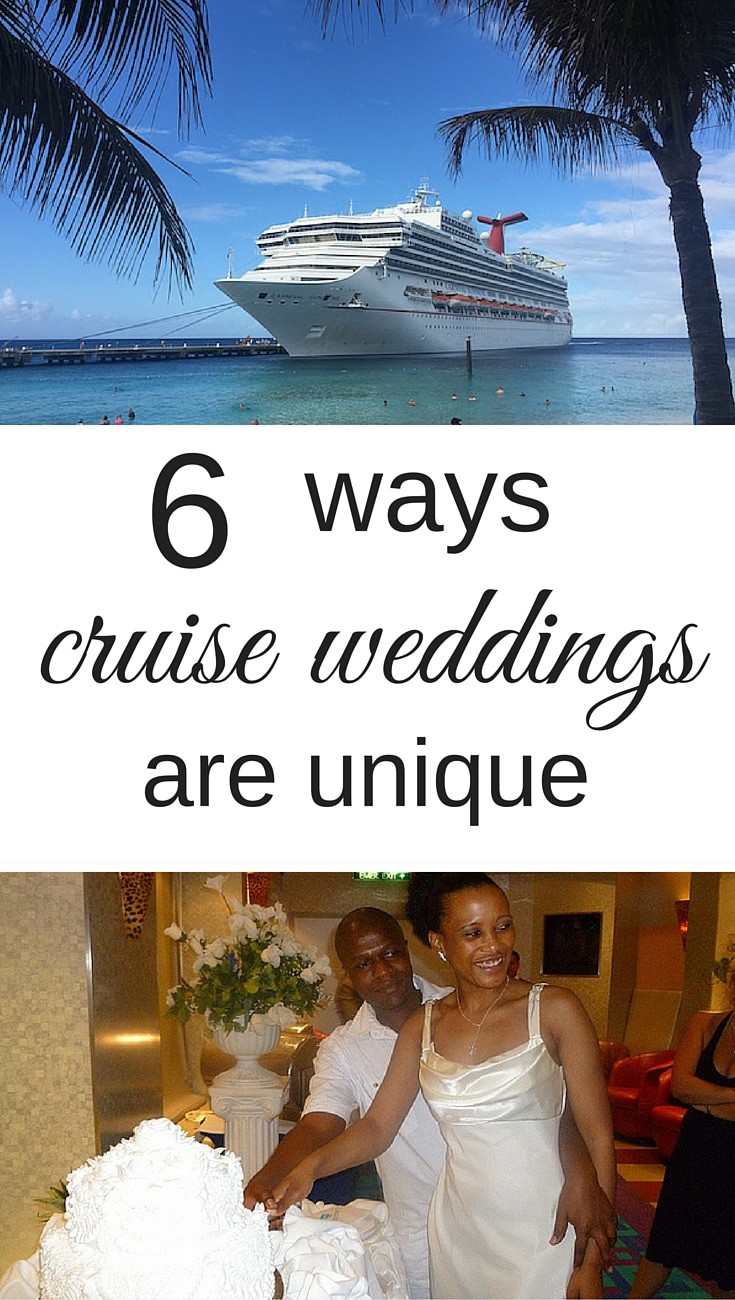 Pinterest image photo courtesy of flickr/Sunish Sebastian and flickr/SouthernWI