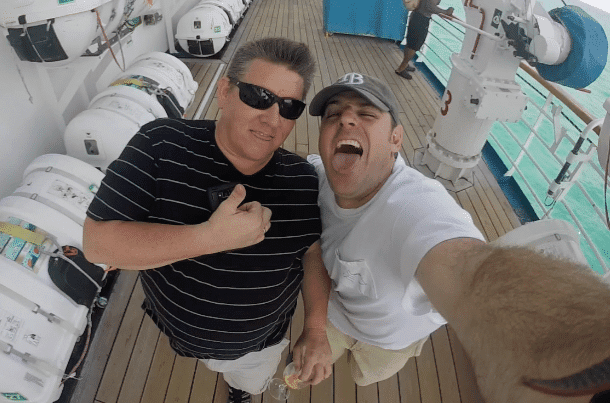 I am pretty basic – or thrifty while traveling – most of my travel friends have these big cases for their electronic gear, mine is a Tupperware bowl with compartments.
Other friends have waterproof Go Pro cameras (which are totally awesome) and the GoPole that cost $50, I made my GoPole out of PVC pipe and two end caps from Home Depot. So when it comes to life, I'm thrifty too. I just love traveling with little as possible.
Here are 6 ways I make travel simple:
1. Travel light. If you see me wearing a sports coat at formal night, chances are I just bought it at a thrift store for $6 on special. That's because I really dislike traveling with sports coats because they wrinkle so easy. After talking to the crew, they told me that clothes that are left in the cabin are donated to less fortunate ports. So leaving my coat makes me feel like I've done my humanitarian act for the week and I won't have to worry about leaving it in the back of a rental car (like I did in March).
2. Cartwheel app. I was recently turned on to an app that you can use at Target called Cartwheel that puts a whole new spin on online coupons. All you have to do is download the Cartwheel app, scan the item and it tells you if it's on-sale. I recently used the app for my pre-cruise shopping and it saved me $16.
3. Think logical. Depending on what you electronics you bring, you can charge items off each other. For instance, I always travel with my MacBook. Our stateroom only had one plug in it so we were able to charge both phones off the USB of my MacBook. That avoided us having to bring a surge protector or an extension cord. Same can be said with cameras and other electronics.
4. Use message boards. Message boards have been a Godsend to while I've been traveling. I learned about a day pass resort in Cozumel for $20, how to avoid paying $79 for an excursion in St. Thomas and a beach resort in Cable Beach for $25. There are a lot of cruise message boards out there like CruiseCritic, Cruise-Addicts, CruiseMates and CruiseLineFans.
5. Take advantage of loyalty programs. Depending on what cruise line you travel, you could get free laundry, free drinks, free internet and coupons. I like being a part of Carnival's VIFP club because if I am going on a seven-night cruise, I only pack for a three-night because of free laundry.
6. Have a travel email address. I recommend this for anyone traveling a lot or just having a love of travel. Sign up for anything and everything. You never know when you'll get a deal for a travel backpack, rental car, cheap airfare or a flash fare on a cruise. Having a dedicated email address for travel is worth its weight in gold.
Why do I say have a dedicated email address? Because once you sign up, the deals just keep coming and coming!
As you just read, it's nothing too much out of the ordinary, just always thinking ahead and realizing at the end of the day you want to carry as little as possible.
Do you have any cruise travel trips to travel simple? Leave me a message, I'd love to hear from you.
Have you subscribed to Cruise Radio yet? Subscribe to us on iTunes and Stitcher Radio Network.