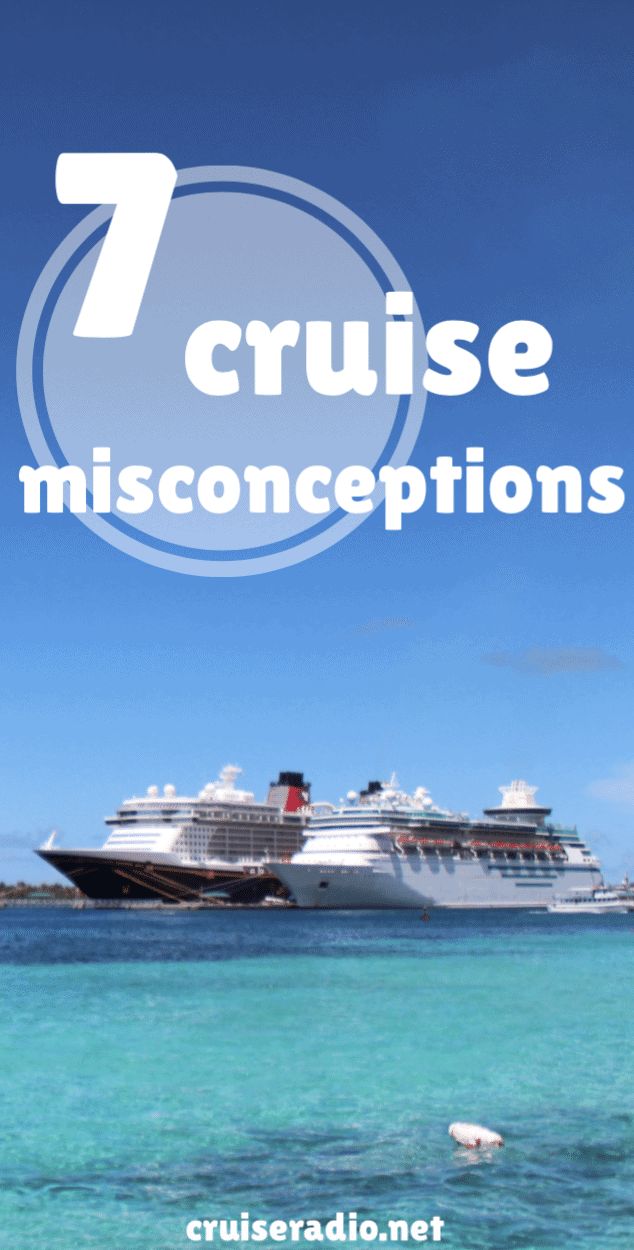 I love cruise misconceptions. Recently I was talking to some friends that haven't been on a cruise in twenty years. They told me that while they respect cruisers, it's just not for them. I asked them why – here are seven reasons (misconceptions) they told me.
1. Too Claustrophobic
Modern day cruise ships are designed with the guest in mind. The décor, architecture, flow of the ship, and dining areas are built around the cruiser.
2. They Are Boring
It's a floating buffet. In the land of pizza and fruity drinks, you could think that a cruise ship is nothing but a floating Golden Corral restaurant. Yes, cruise ships have buffets but they also have one of a kind partnerships with land based restaurants and personalities that will have you coming back for more.
3a. Seasick
You're not sailing on the Nina, Pinta and Santa Maria. Cruise ships have state of the art technology that lets the captain know when rough weather is coming and when to put out the ship's stabilizers.
3b. Too Formal
Contrary to what people say, you do not have to dress formal anywhere on a cruise ship. Even the so called 'formal nights' aren't so formal anymore. Some cruise lines will let you into the main dining room with jeans and a nice polo shirt. Long gone are the days of the tux and tie.
4. I'll Gain Weight
If you're worried about food, put the fork down. Only you can control how much you choose to eat. However, over the years cruise lines have shifted to healthier options for guests wishing to eat cleaner. Yes, you can have steak and lobster with drawn butter, but you can also have an unlimited amount of salads and lean meats as well.
Cruise lines are also starting to open healthier dining venues, some complimentary and some for a fee. One that comes to mind is the Aqua Spa Cafe on Celebrity Cruises. Celebrity was the first cruise line to offer a spa menu at sea.
Plus, cruise ships have gyms – for free!
5. Only Old People
I can tell you that this one is wrong because I've been cruising since I was a teenager and have been hooked since the moment I stepped on Carnival Fantasy. You're seeing cruise lines offer branding partnerships with big names like Nickelodeon, Dr. Seuss and the Smurfs. You're also seeing venues that are catering to millennial travelers with the surge of mixology bars, shorter theater shows and hipper music.
6. Too Regimented
There are no schedules when you're cruising. Norwegian Cruise Line introduced Freestyle Cruising circa 2001 and it revolutionized the way people cruise today. You can dine when you want, do any activity you want and explore the port however you want. There is no need to follow a schedule.
7. Costs Too Much Money
Cruises aren't nearly as much as they were 20 years ago. In 1995 it cost $2300 for two people to sail a short cruise on Royal Caribbean's Monarch of the Seas. Right now you can get the same cruise on Majesty of the Seas (Monarch is retired) for $280 per person.