An interview I did this summer with Gio, the Hotel Director aboard Royal Caribbean's Majesty of the Seas.
Doug: Let's talk about your background. How did you get from Italy to Majesty of the Seas?
Gio:  I am from Naples in Italy. I am a Hotel Director; I worked on Shoreside Hotels all my life. As well, I was happy and lucky to join Royal Caribbean a number of years ago. I have been delighted to work on a cruise line such as this one and the company itself.
Doug: How was it going from a land side hotel to sea?
Gio: In general, the basic objective is the same that you know we have to take care of guests and we have to deliver the 'wow', and we have to do everything possible to ensure that the guests have a fantastic vacation.
Of course, onboard we call it a cruise vacation, and on land they call it land vacation. It is basically the same. The difference is here is that you know you are really on a floating hotel that encompasses a number of activities that we would have also on land. Here you go from one destination to another. In addition to having a fantastic hotel product, we also give the opportunity for our guests to visit other destinations.
I mean, here, we go to Nassau, we go to our own island Coco Cay. We go to Key West. In Europe on other ships that I have been on, and namely the Splendor of the Seas and so on. They go from Venice all the way to Ephesus in Turkey; passing by the beautiful Croatian Coast and touching onto the lovely Greek islands.  It is a spectacular way, really, for people to go on a vacation. They get the best service in the world onboard, as well as seeing all of the spectacular destinations.
Doug: That is one cool thing about a cruise vacation, is you unpack once and go anywhere you want to go. The ship takes you there; it is your floating hotel for 7 days, 3 days, 4 days, however long your trip is. Let's talk about your job here, because when people think of Hotel Director, their mind automatically thinks of hotel room or managing the staterooms. Your job is far beyond that.
Gio: Yes indeed. Our main job really here, which is the main difference between land based hotels, is that you know you're also responsible for the Evacuation Control Center. We are the ones if there is an emergency; you know we are the ones. The Hotel Director is the one that coordinates once the Master of the Vessel or the Captain gives the order to evacuate.   You are the one really with all of your team that, you know, assists the guests in gaining access and going to their muster stations.
Basically, the most important thing is the safety of the guests and crew alike. Then comes the other part of it which is the one that we have been trained for all of our lives, throughout our life. Namely food and beverage. We are responsible for the food and beverage operation. The housekeeping operation, and casino, and so on.
I mean the ship is, in a way, divided into three main sections: the Navigational Deck, Engine, which is really the motors and so on of the ship, then of course the services which I am responsible for; all services onboard.
Doug: It is a floating business. You are in charge of guest satisfaction. You are in charge of the food operations. You are in charge of making sure the ship makes money.
Gio: Onboard revenue, yes. Absolutely, I mean we are responsible to coordinate. We have some fantastic managers here onboard the Majesty of the Seas. Their main objective, really, is to deliver a fantastic service to our guests. Then, of course, you know we need to, like any business, an ongoing concern is a going concern. We try to assist the guests in whatever they need to be happy onboard.
Doug: Being a shareholder myself, I have to say you are doing a great job with financial right now. [laughs].
Gio: Thank you very much. Thank you very much.
Doug: How many crew are underneath you? How many people do you oversee?
Gio: Well, we have 860 approximate crew members onboard here. We have over 640 crew members that report directly through their division heads to me.
Doug: It was recently announced that this ship is no longer going to another cruise line, and that it's staying with Royal Caribbean. Of course, this ship is the oldest ship in the fleet. I think it was launched in like 1992. It is going under a major renovation next April 2016 and then moving up to Cape Canaveral a little bit after that. Are you excited about the renovation? What are we going to see on here?
Gio: Absolutely, that is tremendous news really. The entire crew and some of our current anchor society members are very, very happy. I am also delighted of the news that Michael Bailey, our president, announced to us that we would not be closing down for business as a Royal Caribbean ship, the Majesty of the Seas. It will go through a very important renovation program, in May 2016.
We will have a couple of new venues for example like Sabor Taqueria Restaurant which is you know as you know a Mexican-flavored type of cuisine. Then we will have an Oriental-Japanese inspired food venue which is called Izumi on deck 11. We will also be installing some slides; water slides up on the upper deck in order to give to our families; the kids, which is really a family ship. They will have a number of fantastic additions. Of course, there is the room factor which is the high speed internet throughout the ship which we are very delighted about.
There will be soft furnishing changes and so on. You know the ship will be tremendous. We will add all of these facilities. We will also have the cartoon characters onboard. I think it is going to be spectacular.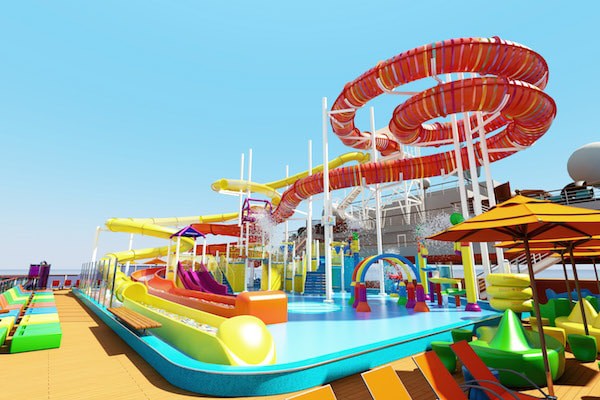 Doug: Very nice. In closing here I want to ask you why should someone sail Majesty of the Seas in your opinion?
Gio: Well, Majesty of the Seas prides itself in the most spectacular personal service that our crew members are able to deliver. Primarily because, you know, they feel proud to be part of the Majesty of the Seas and the Royal family as a whole like we all are. That is, we are not the biggest ship in the fleet, but we definitely have a big heart.
Doug: Nice, very well said. We have been talking with the Hotel Director here aboard Majesty of the Seas. Thank you so much my friend.
Gio: Very kind of you. Thank you very much.