One of the best things to do on a cruise with young kids (or kids at heart!) is a character breakfast. The main cruise lines that come to mind when thinking about a special meal like this is Royal Caribbean, Carnival, and Disney Cruise Line, so this article will be focused on those.  Here are seven great benefits of attending a character breakfast experience!
1. Character Interaction
Though it's arguably much easier and quicker to meet your favorite characters on a cruise in general than it is on land *cough Disney*, a character breakfast literally brings them to your table. They will usually walk around the room to each and every family, greeting each person, giving hugs, and maybe even exchanging a few words.  What better way for kids to meet their favorite movie icons?
2. Different Food
The menus for a character dining experience are carefully curated, often fitting in with the theme of the characters and their popular stories.  The Green Eggs & Ham Breakfast on Carnival is a perfect example; characters from beloved Dr. Seuss stories are there and, you guessed it, green eggs and ham is served (among other options).
3. Affordable Pricing
With the exception of the outrageously expensive Royal Court's Royal Tea on Disney, character breakfasts are very reasonably priced.  Disney's Classic Characters Breakfast and Disney Junior Breakfasts are free.  Royal Caribbean's DreamWorks character breakfasts are $10 per person age 6 or older, and Carnival's Green Eggs & Ham breakfasts are $5 per person.
4. No Lines
Unlike the crazy busy buffet which is the usual breakfast option, a character breakfast gives you a chance to sit back and relax a little bit.  There's no line to wait in; just order your selections and let the servers bring them to you.
5. Better Behavior
This will end up varying depending on your particular voyage and the guests on it, but in general kids tend to be on their better behavior during a breakfast experience like this.  Maybe it's because they're so awestruck to see their favorite characters, maybe it's just the ambiance of the setting.  Either way, it's probably going to be more calm and quiet here than the buffet any day.
6. Photo Opportunities
With meet and greets comes the always-essential photo ops.  Did you really meet Alex the Lion, Shrek, Mickey Mouse, or The Cat in The Hat if there's no picture to prove it?  Smile big, because otherwise we'll never know!
7. Private Dining Room
It may sound like we're starting to repeat ourselves here, but this is a major plus – especially for tired adults and exhausted parents.  A character breakfast is always held in a private dining room – usually one of the main ones used for dinner.  The space is more intimate, the ceilings are lower, and your character experience becomes that much more special.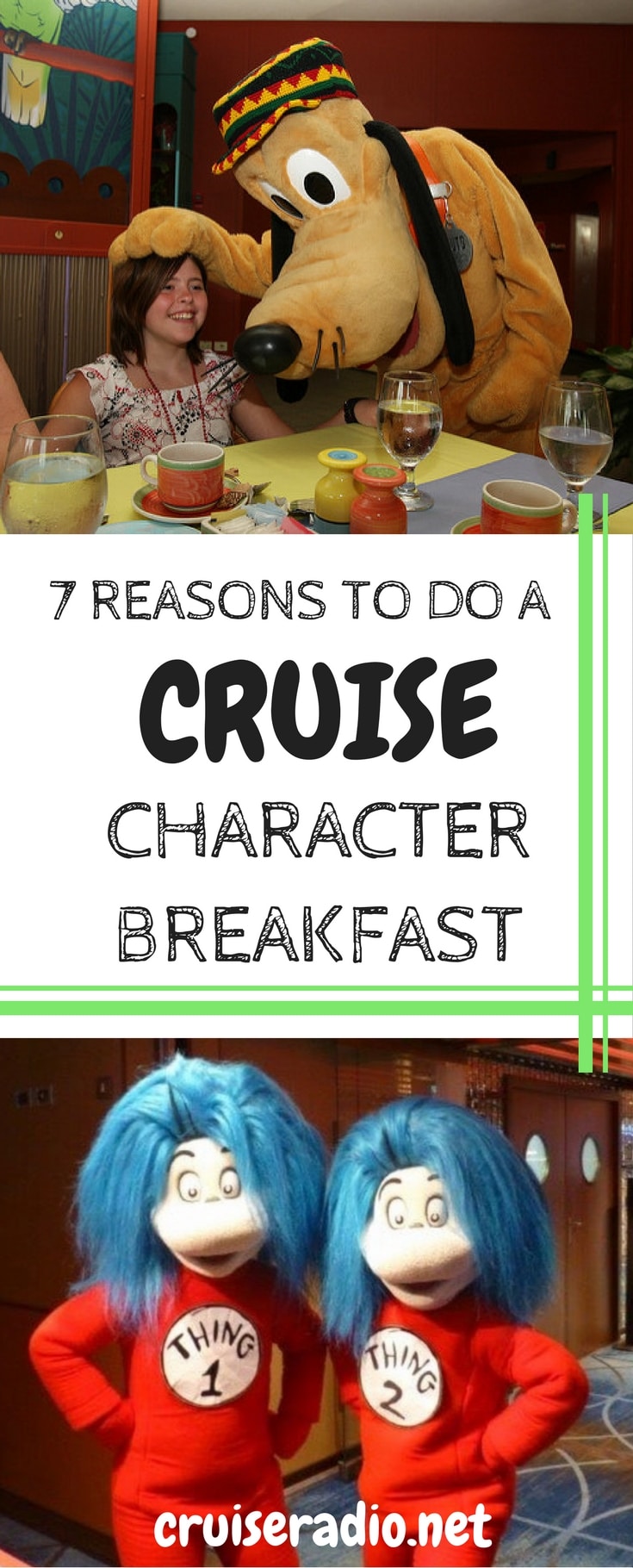 Disney Pinterest Image photo: David Richards on Flickr