If you have yet to try the cold brews, Caribbean cocktails, and lively flare of Carnival's RedFrog Pub, you are missing out. This pub carries the spirit of the Caribbean around with it everywhere it goes, so you feel like you're relaxing at a beach bar even while out at sea. The Pub can be found on the following Carnival ships: Vista, Sunshine, Magic, Freedom, Valor, Miracle, Legend, and Pride. Be sure to look out for those ships when booking your next Carnival cruise so you can experience these 7 things the RedFrog Pub has to offer.
1. The Beer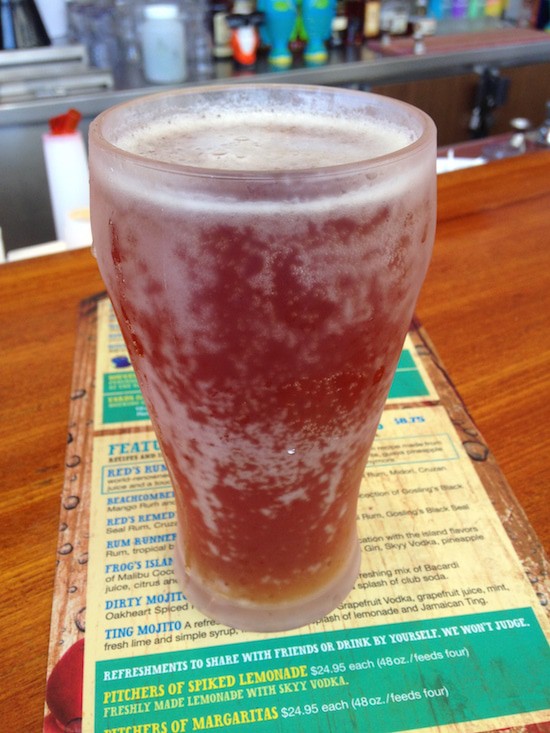 Of course, the beer is probably the number one reason cruisers love Carnival's RedFrog Pub. Brewed by Anheuser-Busch exclusively for Carnival Cruise Line, the ThirstyFrog Red Ale is an American amber that is available on every ship that features a RedFrog Pub. And if you're a craft beer enthusiast that's lucky enough to be sailing on Carnival Vista, you can enjoy the newly introduced ThirstyFrog Port Hoppin' IPA, ThirstyFrog Caribbean Wheat, and FriskeyFrog Java Stout after touring the onboard brewery. But these in-house brews aren't the only ones on tap – cruisers will also find the staple domestics and imports like Bud Light and Heineken along with some of the Caribbean's best brews out there such as Carib (Trinidad and Tobago), Kalik (The Bahamas), and Red Stripe (Jamaica).
2. Beer Pong Tournaments
The RedFrog Pub hosts beer pong tournaments every day, with entry being $6 per person for teams of two. The winners get the ever-coveted golden ship-on-a-stick as well as a medal and – most importantly – bragging rights. But the best part about this friendly competition is that fact that it is just that – a great way for cruisers to get together for a fun time to meet new friends. And don't be shy if you've never played beer pong before either, because cruise entertainment staff will be there to explain the rules and help referee the games. (May the odds be ever in your favor.)
3. The Rum Cocktails
Not a beer drinker? No problem. RedFrog Pub has a full Caribbean cocktail menu full of cruiser favorites like a Jamaican Sunrise, Ting-a-Ling, and a Dirty Mojito. There's also an entire menu page dedicated to "Frog-approved" white, flavored, and dark rums for you to try, including a four-count sampler flight if you can't pick just one. And paired with that rum menu is another full page of rum cocktails, both on the rocks and frozen, to round out the drink menu. And if for some reason you can't decide on anything on the menu, just ask the friendly bar staff and they'll be happy to recommend something fresh or off-the-menu based on your tastes.
4. The Live Music
One of the best parts about spending time in RedFrog Pub is that there is a featured musician playing almost every night. Often a solo artist with just a guitar and a mic, they are always happy to take song requests from guests, and nothing sparks up some good bar comradery quite like a classic tune that everyone knows the lyrics to. Bars and music go together like peanut butter and jelly, so this perk to the pub is a no-brainer.
5. The Bar Food
All ships featuring a RedFrog Pub offer up delicious sweet-and-salty plantain chips to pair with your brews and cocktails. However, the pubs on Carnival Vista, Breeze, and Magic also feature an à la carte bar food menu with bites like coconut shrimp, grouper fingers, Jamaican wings, Caribbean sliders, and Jamaican jerk pulled pork sandwiches. And in case that doesn't satisfy your Caribbean cravings enough, there's coconut cake and a rum cream cocktail to top off the menu for dessert.
6. The Games
The Pub happens to be the perfect place to go on sea days because it's full of games like foosball, cornhole, checkers, ring and hook toss, peg games, etc., to keep you entertained while you make your way through the drink menu. It's all too easy to get lost on Caribbean time and end up spending a few hours here given everything there is to do. But you know what they say: time flies when you're having fun!
7. The Atmosphere
Between the fun, colorful decor, bar games, live music, and extensive drink menu, RedFrog Pub serves up the perfect atmosphere for kicking back and having fun. Its Caribbean-inspired decor emulates both the destination itself as well as the laid-back attitude. Of course, the beating heart behind the inviting feeling of the bar is the friendliness of the RedFrog Pub crew, all of whom will keep you coming back with their infectious fun attitudes.
Pin this: