I just returned from a couple night trip in New York City aboard Norwegian Breakaway. While the ship itself was fabulous – the transportation around New York City was definitely a learning curve for this Florida boy.
 Getting Around New York City 
1. Uber is your friend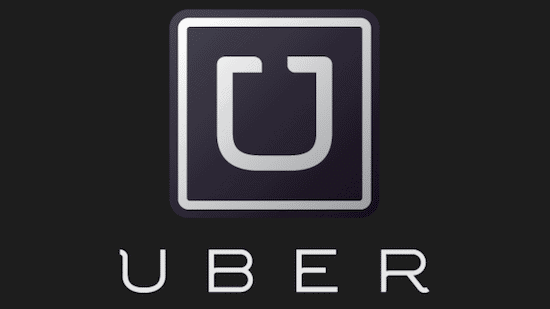 Uber is a peer-to-peer car service and is absolutely better than a New York City taxi (27% cheaper too). Download the app from your app store and use Uber to get around the city. I used Uber five times during my trip and each trip I never waited more than five minutes for an Uber car to pick me up.
Uber does their calculation just like a cab, time and distance. So with that said, it is cheaper during non-peak times (rush hour). Uber is also much cleaner than a taxi because the car is someone's personal vehicle.
If you use this Uber promotion code you'll get your first ride free. Just punch in ydhf9 when you download the app and enter the promotion code. You'll get a free ride up to $20. No strings.
2. Know Uptown and Downtown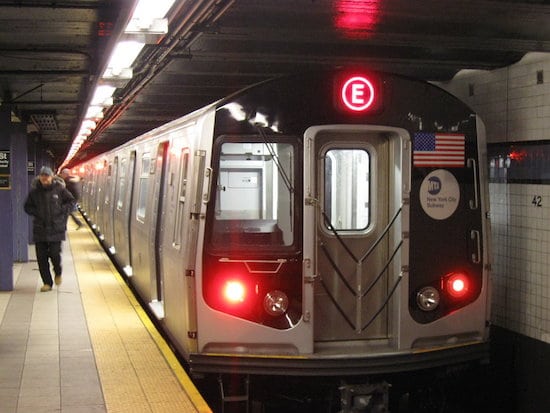 Call me a novice or an amateur but I took the E subway from my hotel at Madison Square Garden to Rockefeller center to watch the Today Show. So I was going uptown. To go back to my hotel, I'd have to go south, or downtown. Well I stood on the same platform and it took me uptown because I wasn't paying attention. The signs are clearly marked but if you're not used to the signs it could be a little tricky.
3. Think ahead with Metro
Before you plan your trip and if you're going to use the metro system, think of how much you're going to use it and buy a card to cover that cost. It will prevent you from buying single ride fares at the kiosk or spending a dollar each time for a new metro card. When I return to NYC I will buy a metro card at the beginning of my trip. I wound up paying a few dollars more than I should have because I didn't think ahead. Each new card I bought cost an extra $1 for a new card fee.
4. AirTrain from JFK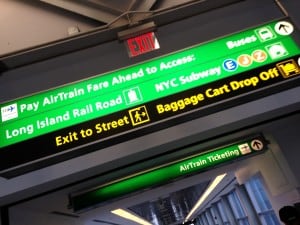 A taxi from LaGuardia or JFK will run you approximately $50. Tack that on to the hotel, dining out in the city and sightseeing – it all adds up. If you're flying into JFK you can take advantage of the AirTrain for $5. This above ground train will take you to the Jamaica Center subway station and you'll transfer to the E train and it will take you into downtown Manhattan.
You can take the E line to Penn Station, Port Authority Terminal, 50th or even transfer to another metro – depending on where you're going. If you aren't in a mad dash this could be the most affordable option if you don't have a ton of luggage. From stepping onto the AirTrain to stepping off at Penn Station was a 45 minute ride. You can see more details here.
5. Download a Subway app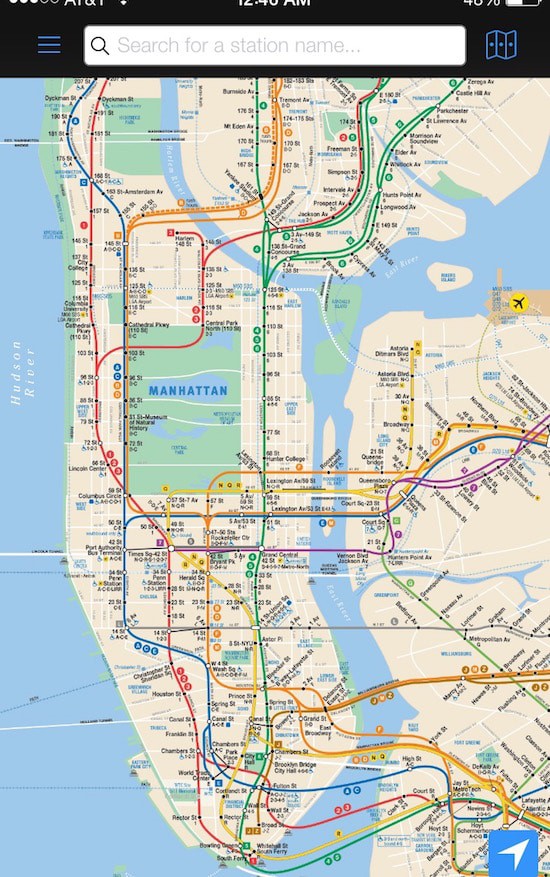 I opened this app more than I care to disclose but it's brilliant. It has where the metro lines go, where to transfer and how to get to where you want to go. I downloaded the free NYC Subway app but there are other apps out there.
6. Streets are Grids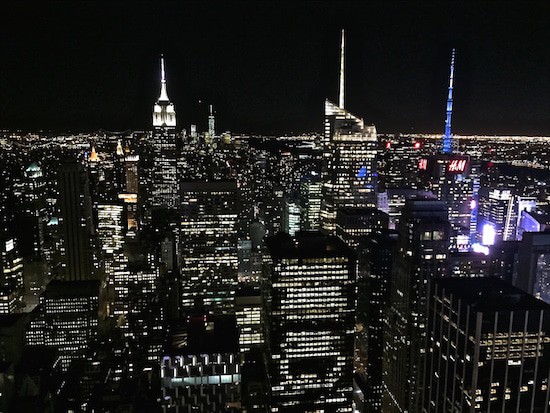 So this one may sound silly but if you draw a tic-tac-toe board, that's how the streets in NYC are , especially the numbered ones. The only issue I had was trying to figure out if I was walking towards 5th or 6th Avenue (or any avenue). Sometimes it was trail and error. When there's a negative six wind-chill outside, it's a painful error!
7. Research
This goes without saying but research everything you want to do in the city. Sometimes it's cheaper to buy your tickets online and you can get priority over other people waiting in line for certain attractions. Navigating around New York City isn't bad at all, it just takes some research.
If you're there and have a free evening, spend the $29 and go to the top of Rockefeller Center, or Top of the Rock as they call it. Best view in the city! If you want to take in the sights of NYC for a super reduced rate, check out the NYC All Access Pass from Shore Excursions Group. I bought it for $88. Review coming soon.
Don't believe what you hear. Not all New York City people are brash and believe it or not, they want to help you!
Have you subscribed to Cruise Radio yet? Subscribe to us on iTunes and Stitcher Radio Network.