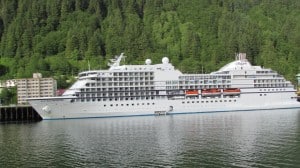 Here are some cruise vacation booking tips when planning your next getaway.
1. When you book your own airline tickets, if the route you picked to make it to the ship fails, you're on your own. Don't risk missing the whole cruise over a few frequent flyer miles.
Sure you can probably get on if you can catch the ship, but will you be able to find a flight and transportation to the ship. Will it be worth it, considering how much you'll have to pay in last minute travel arrangements? No matter how you get there, try to avoid this situation by booking a flight that leaves you plenty of time to get you to and from the port to the airport. If you do this, buy travel insurance.
2. Paying the brochure rate for a cruise is like paying the full sticker price for a car. You should be able to easily find a good discount off those rates, if you can't, keep looking around.
3. It's a good idea to book early. The booking rates become more expensive the closer to sailing. Although some people report that if you're able to wait until the last minute, there are deals that can be had on under-booked ships.  The objective of the cruise line is to have a full house before sailing.  If they find themselves with some empty cabins, they may reduce the rate just to fill them.  Just keep in mind that you will be limited on your choices as far as where your room is located, whether you have a balcony or not, etc.
Booking early on a cruise line generally refers to 120 [debatable] days prior to sail date. If you book early you will have a better chance of getting exactly what you want and at a discounted price. However, if the ships have low occupancy rates close to sailing, you can still find great deals. With all the new large ships that are being launched, last minute deals are still a possibility. But, these deals can be limited and many people don't have the flexibility to leave or at least book in an instant.
4. Shopping the Internet can be the quickest and easiest way to compare many different cruise rates.  Be flexible about your travel plans. As with every other travel industry, cruising during the off season will also help you save money.
5. Purchase travel insurance, but not just any travel insurance. Shop around and find the best rate. A good starting point is Insure My Trip.
6. Apply any coupons or special discount programs for which you are eligible.  Discounts may be available for associations, corporations, seniors, children or even large groups or family reunions.  Some credit cards will have special discounts available to their cardholders.
7. Package deals often include a discounted cruise price along with pre or post-cruise activities.  Most cruise lines will also give discounts to the military, so if you or someone in your party is or has been in the military, ask for their discount.
8. 2 for 1 deals are popular sales incentives where two cruises are offered for the price of one. However, airfare is usually not included in the two for one rate. Cruise lines have also offered discounted or free airfares, free post or pre-cruise hotel stays, free cabin upgrades, extra days free or free shore excursions.
9. Use a travel agent. Travel agents go through extensive training both through the cruise line and onboard the ships to make sure they can provide the best insight to you. Travel agents don't cost extra and will give you great one on one customer service.
The bottom line with discounts is….ASK!  They may not offer you the discounted rate up front, but if you ask, they will certainly tell you if any would apply.  The goal of the travel agent and cruise line is, after all, to gain your business.
Have you subscribed to Cruise Radio yet? Subscribe to us on iTunes and Stitcher Radio Network.
Related articles