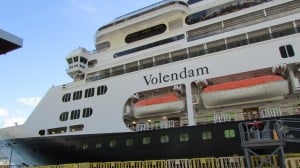 A lot of people come back from their cruise and say "I wish I would have done this or known about that," hindsight is always 20/20 so you'll want to know before you go.
Here are 9 good cruise reminders:
1. Carry your bathing suit. Luggage can take up to a few hours to be delivered to your room and you'll probably want to hit the pool or sun right when you board, so either wear your bathing suit on the ship or carry it on.
2. Wine or champagne. You can bring on a bottle of bubbly. While it may not save you a ton of money, it allows for you to have your own sail away party at a discounted rate. A $30 bottle of wine in the store will run you around $60 on a cruise ship.
3. Excursions sell out. Don't wait until the night before to book your excursions, they do sell out. In fact, on a recent Western Caribbean sailing everyone wanted to do Sting Ray Bay in Grand Cayman and a lot of families were disappointed because they waited til last minute and it was sold out. You could also consider booking with reputable companies like Shore Excursions Group.
4. Chat with the crew. Couldn't find that hidden restaurant or wifi café? Don't be afraid to strike up a conversation with the ship's crew. Most ships are in that very same cruise port every couple weeks, if not weekly.
5. Study the ship. Every cruise I hear people say "it figures the last day of the cruise I learn my way around." Don't be that person. Study the ship before you board, watch YouTube videos and read reviews of the ship. You'll learn a lot.
6. Use two credit cards. Cruise lines can hold up to $200 per day for your sailing. If you're on a 10-night sailing, that can add up. Consider using one credit card to link to your onboard account and a second credit card for spending. This way you'll still have money to spend and not have to worry about your credit line.
Another tip is to use pre-paid credit cards to help regulate your budget.
7. Know your ports. There are plenty of resources to learn your cruise port. Don't think you'll just get off the ship and figure it out – most of the time that doesn't work. Have a game plan.
I learned this lesson the hard way the first time I went to Civitavecchia (port for Rome). I wound up at a crew bar at the pier drinking beer all day because I had no game plan.
8. Hand sanitizer. In the land of thousands of people and not knowing how clean one person is to another, bring on a bottle of hand sanitizer. The cruise lines have bottles of sanitizers; some even have hand sinks in the dining room, but just to be safe pack a bottle.
9. Delayed luggage arrival. Be prepared for the worse. Luggage has a tendency to misconnect sometimes. Pack at lease the essentials in your bag just in case something happens and you aren't stuck on the ship for a day or two in the same clothes. You should always consider a trip insurance policy as they tend to reimburse you for delayed baggage.
My cruise survival gear is deodorant, toothbrush, gym shorts, boxers and a t-shirt.
Be smart and prepared before you step foot on the ship. Don't be one of those people that say, "I wish I would've…"
Subscribe to our Cruise Updates.
Related articles