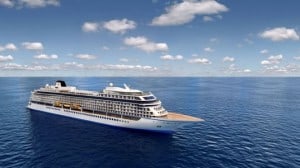 By Sarah Phillips
We love all things cruising pretty much all the time. And right now, we've in love with Viking Ocean Cruises. In May 2015, Viking will launch the first of 2 brand new ships, the Viking Star. This new 928-guest ship offers some sweet features on top of all you've come to expect and love from Viking. Now, we give you 9 very good reasons why we love them (and you should too!).
1. All Veranda Staterooms. While the line offers 5 different cabin categories, each and every one of them is still a veranda stateroom. Each stateroom also offers large showers and LCD TVs.
HEAR OUR BROADCAST BOARD VIKING RIVER CRUISES
2. Two Pools (and one's an Infinity pool!). Infinity pools might be one of the coolest things ever invented. Viking Star features one of the few infinity pools at sea, located on the stern of the ship. The ship also has a main pool with a retractable dome.
3. It's a green ship. It might be sailing on the big blue ocean, but there's no doubt Viking Star is really a green ship. Environmentally friendly features include onboard solar panels, dual-fuel engines with 'clean' exhaust, a streamlined hull and bow for maximum fuel efficiency, and equipment to minimize exhaust pollution.
4. Dining choices.  Love to dine al fresco? Viking's your ship. Viking Star offers more al fresco options than any other ship. Plus, the ship serves up multiple restaurants offering world cuisine and regional favorites as well as intimate dining experiences.
5. Affordable. Go ahead and add up everything you get on Viking Star. Once you've added it all up, sit down and take a look at the fare you're actually paying. It's extremely affordable to sail on Viking Star.
6. All-inclusive. When Viking says all-inclusive, they means all-inclusive. Your cruise fare on Viking Star includes a veranda stateroom, shore excursions in each port of call, all onboard meals, and all port charges and government taxes. Part of the fare also includes beer and wine with lunch and dinner service; wi-fi; self-service laundry and 24-hour room service.
7. Diverse Itineraries. Viking focuses on ports and places and it shows. Because of the ship's size, Viking Star is also able to visit local ports larger cruise liners have to bypass. Ports are chosen with an emphasis on culture, history, art and include cosmopolitan cities. Viking also focuses on maximum port time – including mornings and late nights – to provide a true cultural experience.
8. Enrichment Opportunities. Both Viking Star's onboard venues and extra offerings lend to an enriching experience. The three-deck atrium offers passengers a place to enjoy live regional and classical music. The Star Theater features enrichment lectures from scholars and experts and the Viking Piano Lounge gives guests a place to retreat and re-cap their daily adventures. An onboard cooking school also offers lessons on local specialties.
9. Built on Viking's Strengths. Viking is taking all of their experience from River Cruises and transferring it to the brand new Viking Star. The new ship will mimic her river sisters by continuing the focus on exclusive port offerings and unrivaled onboard experiences.
This first ship, Viking Star, will debut May 2015.
Subscribe to our Cruise Updates.