1. Have dinner at the steakhouse
What's more romantic than a multi-course meal in a secluded restaurant? Take a night off from the main dining room for a more private and intimate dinner alone. On Carnival, if you go the first night you'll get a free bottle of wine.
2. Have breakfast in bed via room service
Instead of rushing out of your room to beat the crowd at the lido deck buffet, order room service and ease into your day with breakfast in bed together.
3. Spend time on your balcony
Booking a balcony stateroom is not just about enjoying the sights, sounds, and smell of the ocean. Make time to spend time on your balcony together, enjoying each other's company and maybe even a beverage. If you don't book a balcony stateroom, no problem. Find a secluded deck on the ship and enjoy the breeze.
4. Get a couples massage in the spa
You both deserve some relaxation, so why not do it together? The intimate session is an opportunity to bond and will leave you feeling refreshed and ready to take advantage of the rest of your cruise vacation.
5. Order champagne and chocolate strawberries
Before you even get on the ship, visit the cruise line's website and place an order to have your room decorated romantically, maybe even ordering some flowers, champagne, or chocolate-covered strawberries as well. Having all of this in your room upon arrival will set a romantic tone for the rest of your cruise.
6. Attend the Love & Marriage show
Almost every cruise line offers a variation of this show. Normally held in the theater, the show features a host – usually the cruise director – bringing up on stage three couples: newlyweds, the longest-married couple in the crowd, and a married couple in between. They are asked questions about each other, and the answers are beyond hilarious. It will make you reflect on your own relationship and what your answers would be.
7. Take a romantic excursion
Check out CruisingExcursions.com to find a romantic getaway such as an exclusive beach getaway with a private cabana.
8. Watch the sunrise
Start your day off on the right note with an early morning cup of coffee and a view of the sunrise. For most of us, this is not an experience we get to share very often at home, so take advantage of your obligation-free vacation time to enjoy the simple things.
9. Watch the sunset
Make it a point to watch at least one sunset as well. Use the time together to reflect on your day and be thankful for being able to enjoy another cruise together.
Pin this! ↘︎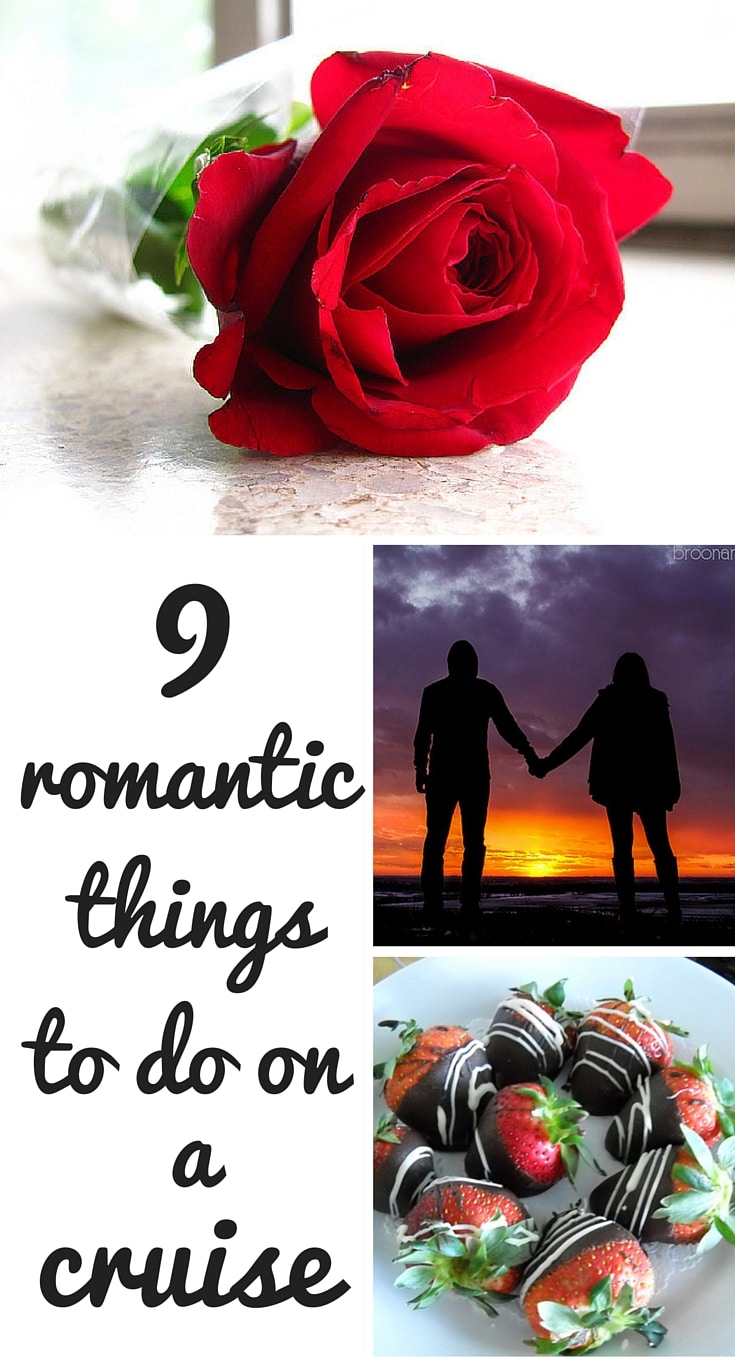 Holding hands photo: Flickr/Brett Brooner
Strawberries photo: Flickr/Melissa
Red rose photo: Flickr/blair_25