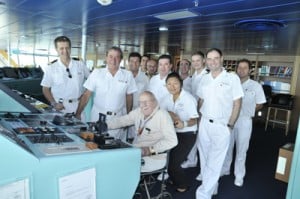 A modern day 'Old Man and the Sea,' would be another name for this story, kind of. Norman Wigle, recently celebrated a milestone aboard Carnival Triumph when he turned 100 years old on his 53rd "Fun Ship" sailing.
Old Man Wigle, who lives in New Orleans, received VIP treatment by the shipboard crew as well as having a special birthday reception on the navigational bridge, hosted by Captain Angelo Los. The festivities didn't stop there; he was also the star of the guest talent show followed by a happy birthday song by 1500 fellow passengers.
To put Mr. Wigle's age into perspective, the RMS Titanic wasn't even complete when he was born.
Photo credit: Carnival News