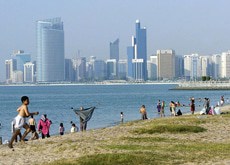 ABU DHABI, October 13, 2011:  The Abu Dhabi Tourism Authority (ADTA), working in collaboration with the Abu Dhabi Ports Company (ADPC) and Abu Dhabi Terminals (ADT), is pleased to announce the launch of a new tented cruise terminal at Mina Zayed, the Emirate's main port. In honor of this new addition to Min Zayed, the terminal will open with a welcome ceremony and serve as the short-term home to the luxurious MSC Lirica cruise ship. The vessel will be the first to use Abu Dhabi as its home port on October 29th before embarking on 19, eight day/seven night cruises around the Arabian Gulf.
The new facility, on the site of the former ADTA visitor information center, has been designed to cater for the 2011/2012 and 2012/2013 cruise seasons. It spans some 2,000 square meters and comprises two dedicated halls – one a luggage-handling facility, the other a passenger center complete with a waiting lounge, security section, prayer rooms, offices, visitor information center, currency exchange as well as customs and immigration facilities. The terminal is capable of simultaneously accommodating 1,300 passengers.
According to ADTA, the arrival of MSC Lirica – the first liner to homeport in the UAE capital – is expected to bring a significant boost to Abu Dhabi's cruise traffic which is already being aided by increased deployment of larger capacity vessels by existing operators. The tourism authority has prioritized cruise tourism as one of its five 2011/2012 strategy pillars.
"Cruise shipping has enjoyed strong recession-proof growth for many years," explained HE Mubarak Al Muhairi, Director General, ADTA. "The market obviously ranges between low cost volume cruise business and very high end exclusive cruises – Abu Dhabi is targeting the higher end segment."
In line with its long-term cruise ambitions, ADTA is planning to construct a permanent, purpose-built cruise terminal at Mina Zayed.
"Ultimately our capacity to build the cruise tourism business will rely on a combination of good planning, good infrastructure, strong marketing and industry co-operation," explained Al Muhairi.
"With this in mind, we now have government approval for the concept of a world-class cruise terminal which is required if we are to fulfill our ambition of becoming a home port of choice. We have singled out three possible sites in the Mina Zayed vicinity and have commissioned technical feasibility studies into these. Once these are complete, we will go to the design stage. We intend to make the permanent facility truly world-class. We realize we will be servicing new generation vessels that need ashore the same high-level facilities the passengers experience on board.
"We have strong hopes of the cruise business continuing to grow into the future with longer term projects for 300 calls and 600,000 passengers by 2030," added Al Muhairi.
Captain Mohamed Al Shamisi, Vice President, Operations, Ports Unit at ADPC added: "We are delighted to see the establishment of a cruise terminal at Mina Zayed and look forward to receiving the first passengers. The port is a key part of Abu Dhabi's infrastructure and this project demonstrates the ongoing support between Government organizations to develop the economy and the tourism sector in the emirate." In the 2010/2011 cruise season, Abu Dhabi received 78 calls by cruise liners with around 140,000 passengers disembarking.
Martijn Van de Linde, ADT's Chief Executive Officer concluded: "We began developing the cruise market five years ago, and are proud to be part of this new development that will further boost the experience for visitors coming to Abu Dhabi as part of a cruise vacation. We are also very pleased that MSC will join other leading cruise lines such as COSTA, AIDA, and Royal Caribbean here in Abu Dhabi. Jointly these lines will bring around 170,000 tourists to visit our wonderful city before the season ends in April next year."