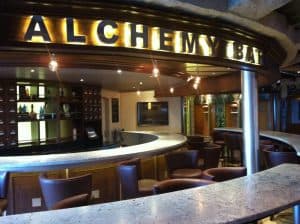 On the aft end of Carnival Liberty sits a little bar that used to be known as the Paparazzi Wine Bar. The bar was loaded with nostalgic characters from the big screen.
Move ahead to October 2011, with an extensive dry dock in Freeport, Bahamas, a new bar is born: Alchemy Bar (pictured right).
In October 3, 2011, in NYC, Carnival Cruise Lines announced a $500-million dollar expansion program coined Fun Ship 2.0. The program's designed to transform a variety of public areas on 15 of Carnival's existing "Fun Ships," plus one new build, Carnival Breeze. The cruise line teamed up with some of the greatest names in the entertainment and food industry to make this a reality.
So what is the Alchemy Bar?
Add fresh fruits, spices, the finest vodkas, gins, expert mixologists and you get the perfect hand-crafted cocktail experience. The ambiance is complete with music, low lighting, wooden medicine drawers, and menus that resemble an iPad. The island bar layout gives plenty of room for mingling and walking between groups. The mixologist's are dressed in lab coats and are ready to mix you up a potion, an elixir, or just fit your mood with a cocktail of your choice. You won't find beer or wine at this bar and a majority of the cocktails run $8.95.
"The Alchemy Bar really comes alive at night" says VP of Product Development, Lania Rittenhouse. That's not far from the truth at all. During the day Alchemy Bar looks like a lonely little bar but before the dinner dozens of guests head to the Alchemy Bar for a pre-dinner drink. Recently we sailed aboard Carnival Liberty to experience the Fun Ship 2.0 enhancements first hand and guests loved the venue. You can hear guest reactions in our latest episode of Cruise Radio, broadcasting LIVE aboard Carnival Liberty.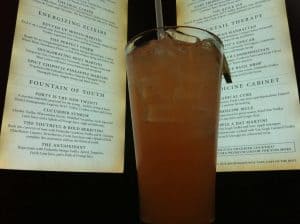 My personal favorite was Cucumber Sunrise, a cocktail with watermelon nectar, lime juice, vodka, and cucumber (pictured left).
The next batch of ships to receive Fun Ship 2.0 in 2012: Carnival Conquest, Carnival Dream, Carnival Glory, Carnival Splendor, plus the forthcoming Carnival Breeze will have the enhancements.
Be sure to subscribe to our Daily Updates here.
Source: Doug Parker/Cruise Radio