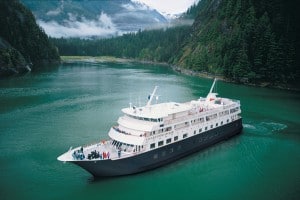 Seattle, WA, March 5, 2012 – Guests booking one of six theme cruises aboard American Safari Cruises' Safari Endeavour this summer in Alaska will receive a $518 travel credit per couple. The travel credit celebrates the vessel's inauguration into the upscale fleet during a May 18, 2012 christening ceremony in Seattle. 
The 86-guest Safari Endeavour sails weeklong adventure cruises roundtrip Juneau, Alaska from June to August and spends two days exploring inside Glacier Bay National Park with opportunities to hike and kayak with park rangers. Six theme cruises feature guest presenters and performers.
June 24, 2012, Among Giants with Flip Nicklin: Explore whales and photography with this world-renowned whale photographer who also contributes to National Geographic. Guests will receive a signed copy of his book, "Among Giants, A Life with Whales."
July 8, 2012, Found: John Muir's Alaska: Professor Paul Hunter brings John Muir's and Jack London's Alaska alive. Includes a dog sledding tour in Juneau.
July 22, 2012, Seeing Beyond the Obvious: Learn new photography techniques from award-winning photojournalist PF Bentley whose documentary career spans 30 years.
July 29, 2012, Smooth Sailing—Smooth Jazz: Jazz lovers unite for live entertainment in the lounge on select evenings. Paul Richardson plays keyboard and Josephine Howell sings—both top artists currently playing in the Pacific Northwest.
August 5, 2012, Travel Photography: Peter West Carey brings his passion for travel and photography together to share tips, tales and techniques.
August 19, 2012, Napa Valley Reds—Wine and Culinary: Cyril and Blakesley Chappellet present their legendary Cabernet Sauvignon and other highly acclaimed wines. Enjoy wine and food pairings on select evenings along with a special dinner.
Travelers making a new reservation aboard one of the Safari Endeavour's theme cruises receive a $518 travel credit per couple. The credit is good for bookings made between March 1 and May 18, 2012. 
Photo/Source: ASC
Subscribe to our Cruise News Updates.