Are you one of the people who say you'd rather get more sleep this year than head back to the gym?  You're not alone!  57 percent of Americans said that they'd rather get more sleep than get in that extra exercise this year, in a survey commissioned by Princess Cruises.
The study, conducted by Wakefield Research, found that Americans would sacrifice a lot for more – and better – sleep.  The first thing to go was their waistline.  61 percent said they'd rather sleep great every night for a month than lose five pounds.  This is partly due to the fact that 53 percent of respondents acknowledged the fact that there's a direct relationship between sleep quality and weight loss.  People are so desperate for sleep that 45 percent would be willing to sacrifice a night out, 38 percent would sacrifice a spa treatment, and 31 percent would even sacrifice sex for a little more zzz's.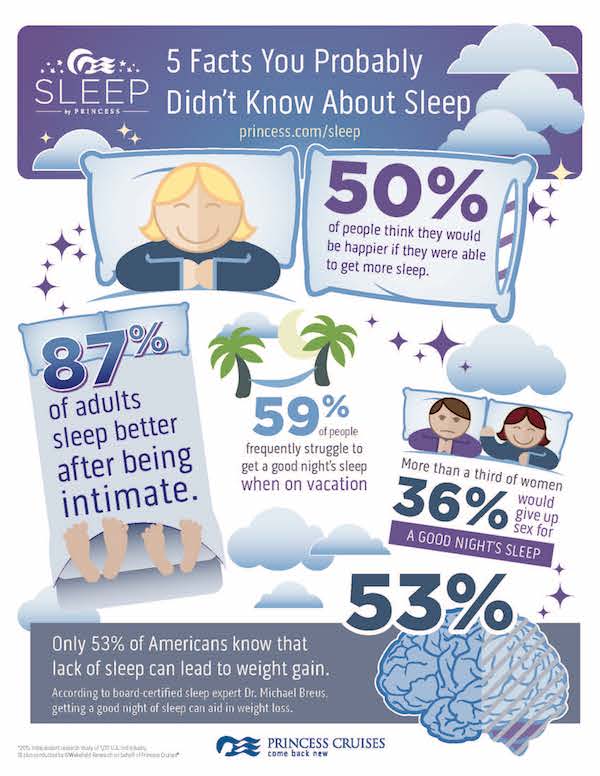 Nearly 70 percent of people said that their significant other had something to do with keeping them awake at night, including snoring, kicking, and rolling over or moving around.  The study also showed that Americans think they'd be 51 percent more productive, 50 percent happier, 21 percent more successful, and 21 percent more creative if they actually got a good night's sleep each night.  I can't argue with that!