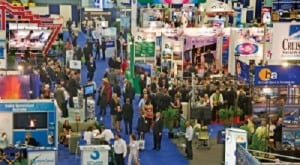 The 2012 Cruise Shipping Miami conference held in March at the Miami Beach Convention Center saw record attendance numbers this year with more than 11,000 attendees. The annual conference is cruise industry geared with more than 120 countries represented, cruise builders, supply companies, and latest cruise news.
Among the significant news made during CSM 2012 were:
Carnival Cruise Lines announced the 1996-built Carnival Destiny will receive a $155 million refurbishment at Italy's Fincantieri shipyards, emerging from dry dock in April 2013 with a new name Carnival Sunshine.
MSC announced it intends to launch another ship in 2013, bringing its fleet to 13 ships. MSC Preziosa will be the fourth ship in the Fantasia-class, along with MSC Divinia, which launches in May.
Norwegian Cruise Line unveiled new details about Norwegian Breakaway, which will enter service in April 2013. The ship offers 17 dining venues and 12 different bars and lounges, including an outdoor area known as "The Waterfront."
Princess Cruises also offered more details on dining options on the upcoming 3,600-passenger Royal Princess, an entirely new class of vessel for the line that debuts in 2013.
New to the four-day conference in 2012 were two panels on emerging medical services and technologies at sea, an update on the burgeoning China cruise market and a panel on port and cruise ship safety and surveillance. An expanded U.S. Coast Guard forum covered a wide range of issues, from regulation compliance to examinations and safety and security.
The 29th annual Cruise Shipping Miami Convention is scheduled for March 11-14, 2013, at the Miami Beach Convention Center.
Subscribe to our Cruise News Updates.