Booking a cruise is can be one of the most expensive vacations out there if not done right. The reason why is because it remains so popular is that it is equally one of the most unique vacation experiences.
There are many additional fees, packages and spending money that does not get accounted for when booking a cruise. Yet, these are not the biggest factor in holding back cruise planners, but rather, dealing with their international clients' money exchange.
The issue that clients have with paying for an expensive cruise from abroad is that the cruise company is not from the same country, and thus deals with a different domestic currency. High currency exchange fees are making cruise ship vacations around 5% more expensive for customers than it needs to be.
The extortionate currency markup is hitting customers in several ways. First, when paying for the cruise itself, the currency is being transferred whether the customer is aware of it or not. Some cruise makers will represent the price bespoke to where the customer's IP address is from, while some do not and will keep prices in their domestic currency. 
Both are burdening the customer with a more expensive trip, it is just that some will not know it because they appear to not be converting any currency at the time of payment. This isn't the only way that customers are losing out though. When on board, customers have reported being charged a 4% flat fee. This is likely on top of the already-poor exchange rate that they are getting when purchasing products or services on board.
The problem is that there is a simple solution which isn't being used. Cruise makers could be integrating payment methods from specialized money transfer companies like TransferWise or moneycorp. There are many that they could partner with to ensure the customer is getting a much more preferable currency exchange rate.
This would be surprisingly easy for cruise makers to do, as FX companies are easy to sell. They are safe, trusted, regulated and provide top quality customer service. Customers who can see such a preferable payment method and the money they are saving may lead to an increase in sales, too, at the same revenue (but cheaper for the customer).
Furthermore, cruise makers could actually profit significantly from this. It is conceivable that cruise maker could make bank by referring their customers to money transfer companies, which in and of itself produces a lot of referral income reward. This could lure more customers in if they could get a rebate too on their initial purchases – i.e. money back if they use the money transfer company, which would be roughly the money of the currency spread.
Rising to the occasion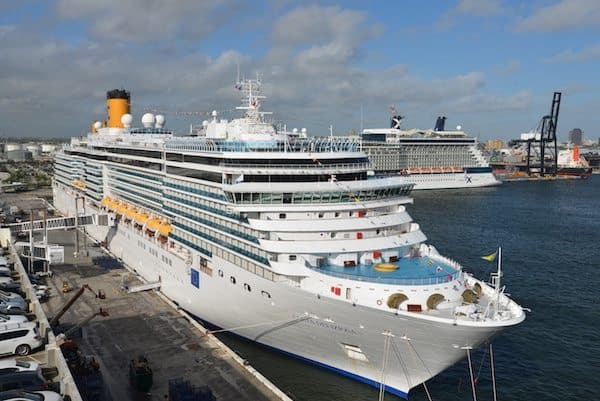 When we look at companies like Overstock, Shopify, Subway, Expedia Wikipedia and OKCupid – what do they all have in common? They accept cryptocurrency as a payment method.
The point here isn't that cruise makers should all go down the Bitcoin route, because this could pose its own risks and challenges. But it goes to show that companies are rising to the occasion of offering more frictionless transfer payments: fast, free and secure.
Companies like TransferWise and moneycorp have taken the opportunity by its collar. Currency rates are abysmal in most services. Banks offer currency markups of around 3% to 5% with additional flat fees,
PayPal offers similar poor rates, and it seems that there is a huge gap in the market.
New fintech companies are constantly being born, and with their specialized single-domain service such as currency transfers, they have the technologies to compete on the big stage. Offering exchange rate markups of 1% or less and with no flat fees, it isn't hard to see why they are growing at a very fast rate.
Even older money transfer companies like Western Union and MoneyGram are failing to compete with both the rates and services being offered by the FX companies. Whilst they are being picked up on by expats and small business owners (e.g. Amazon overseas sellers), it is evident that big businesses are failing to make use of them for their own business services. 
There really is no excuse for worldwide, multinational cruise companies whose customer base is completely fragmented in all four corners of the globe, to still be charging their services with a 5% markup. Thus, up to 500 EUR of customers' money is being wasted needlessly on big luxury holidays, when both the customer and cruise maker could be getting a more lucrative deal.