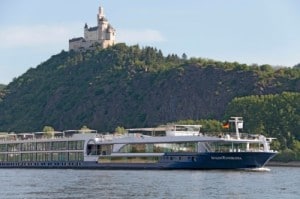 River cruise company Avalon Waterways is introducing an entirely new concept in river cruising – Avalon Choice. Avalon Choice will give river cruise passengers the freedom to personalize their cruise, from beginning to end.
In 2013, with Avalon, how cruisers choose to experience each culture is up to them. For the first time:
They can choose from three tour types: NEW Essential Sightseeing, Traditional Sightseeing and Leisurely Sightseeing. Essential Sightseeing gives travelers a basic orientation with the must-sees, then time to explore on their own. Traditional offers cruisers the great on-shore sightseeing they've always enjoyed. And Leisurely Sightseeing takes things slower, allowing cruisers to take it all in.
Travelers can get even more active on vacation. In addition to offering guided bike excursions in several European ports, NEW for 2013, Avalon is also providing Nordic walking sticks for active guests looking for an extra spring in their step.
Also new for 2013, travelers can select an alternative sightseeing experience, with help from their NEW Guest Services team, allowing them to focus on special interests.
Dining
With the introduction of Avalon Choice Dining, at every meal, cruisers will have the ability to choose from a multitude of dining experiences throughout each day – from experiencing the local culture through cuisine at special culinary events to a la carte dining – and multiple venues on board and off. Cruisers will also have the choice of a la carte options and dining as they wish.
Activities:
Next year, as part of the new Avalon Choice program, guests can attend exclusive onboard Culture & Cruise activities – like food, beer and wine tastings, demonstrations by local artisans and talks by local experts about the areas through which they're traveling. The cruise line also brings local entertainers on-ship so guests can gain a full appreciation of each region and culture.
Avalon Waterways offers travelers the youngest, most innovative fleet of ships in Europe, China, Southeast Asia, Egypt and the Galapagos.
Source: Avalon Waterways
Subscribe to our Cruise News Updates.