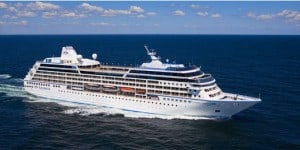 Since Sunday, April 1, Azamara Quest has remained in Sandakan while teams onboard assessed the damage caused by the engine fire, and gather the necessary information in order to make a decision regarding the next voyage. Assessment such as these can be complicated, and all facts must be gathered before a decision can be reached.
Unfortunately, due to the time needed to repair the damage caused by the fire, it is necessary to cancel Azamara Quest's next voyage, which was scheduled to depart Singapore on April 12. We do not take any decision that impacts our guests' vacations lightly, and are deeply sorry that this unexpected development has affected those guests' upcoming vacation.
Azamara Club Cruises will be contacting guests on this sailing personally, or through their travel agent, to discuss the details regarding their cancelled sailing.
Again, it is regrettable that this incident occurred and spoiled our guests vacation, but we will do everything we can to assist them from this point forward.
Source: Azamara Club Cruises
Subscribe to our Cruise News Updates.