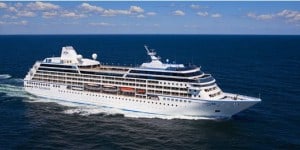 An Azamara Club Cruises ship Quest carrying 590-passengers and 411-crew caught fire on Friday off the coast of the Philippines. The ship, owned by Royal Caribbean, was enroute to Malaysia when a fire broke out in the engine room but immediately extinguished.
It's being reported that five crew members suffered smoke inhalation during the outbreak but no passengers were in harm's way.  The captain ordered all guests to the muster assembly stations but the life boats were never deployed.
Saturday afternoon Azamara published on their Facebook page, "Engineers onboard Azamara Quest continue to work on restoring propulsion to the ship. Once they have restored the ship's propulsion, Azamara Quest will sail directly to Sandakan (Sabah), Malaysia. When propulsion has been restored to the ship, we will be able to provide an estimated time of arrival."
Azamara Quest was on a 17-night sailing that originated in Hong Kong and was supposed to conclude in Singapore but will now end in Sandakan.
Subscribe to our Cruise News Updates.