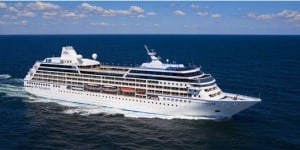 After suffering an engine room fire, Azamara Journey made it safely to land where crew and guests were able to disembark. Guests aboard had the option of staying on the ship or being transferred to a local hotel.
No guests were injured during the fire but one crew member was severely injured and transferred to a local hospital.
"I would also like to commend the crew onboard Azamara Quest, not just for their valiant and courageous efforts during the fire, but for the way they have worked tirelessly to make our guests as happy and comfortable as possible until the ship arrived in port. The entire crew has been absolutely brilliant, and I couldn't be prouder of the exemplary way each and every one of them responded to this incident, " said ceo Larry Pimentel.
The incident canceled the remainder of the Azamara Quest's 17-night sailing that departed Hong Kong, China on March 26.
Azamara Quest was carrying 590-passengers and 411-crew when the ship caught fire on Friday off the coast of the Philippines.
Subscribe to our Cruise News Updates.