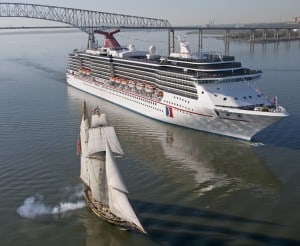 Baltimore announced earlier this week that their cruise passengers numbers in 2011 far exceeded their 2010. The port saw 210,549-guests on 90 cruises set sail in 2010. In 2011, 251,889-guests sailed on 105 cruises.
"The Port of Baltimore's success in the cruise business further accentuates the importance of the Port as one of Maryland's key economic engines," said Governor O'Malley. "Cruising from Baltimore brings tens of millions of dollars to our State and generates hundreds of jobs. We expect this strong momentum to continue in 2012 with 100 cruises scheduled."
Currently, Carnival Cruise Lines and Royal Caribbean International offer year-round schedules from Baltimore. Carnival extended their contract with the port for five-years in 2011.
The Port of Baltimore handled the fifth-largest amount of cruise passengers among East Coast cruise ports and 12th largest in the U.S. in 2010.
Source: MD Port